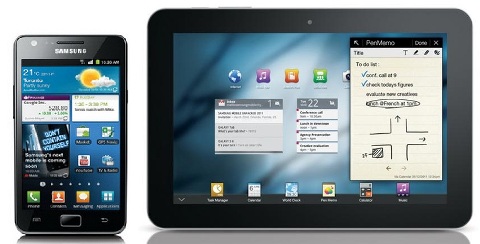 Samsung Electronics has announced new LTE editions of the Galaxy S II and the Galaxy Tab 8.9. These new versions of the devices now offer high-speed 4G connectivity.  LTE  4G technology allows portable devices to download high-quality files at speeds of up to 100Mbps, and to upload at speeds of 50Mbps theoretically – five times faster than even the quickest HSPA+ connection. This means that a four-minute long MP3 track can be downloaded in 0.3 seconds, or an entire film file in less than two minutes
"With the introduction of GALAXY S II LTE and GALAXY Tab 8.9 LTE, we will take the capabilities of these devices to a whole new level. LTE redefines the user experience made possible by these devices and opens entirely new possibilities in terms of content viewing, sharing, quality and connectivity," said JK Shin, President and Head of Samsung's Mobile Communications Business.
"This is a milestone in our commitment to lead the charge in 4G mobile telephony around the world, both in terms of back-end network solutions for service providers and the development of powerful consumer handsets," added Shin.
Not only has the new S II got a new LTE radio chip, there are other upgrades in the new version of the handset. In comparison to the original S II, the new LTE version of the Galaxy S II will be featuring a bigger 4.5 inch Super AMOLED Plus display and also a bigger 1.5GHz dual core processor. Other features of the handset are similar to the S II.
Both the devices have been announced and should be headed towards the US, which has already adapted to the LTE radio frequencies.