We do know that Samsung is working on bringing a new

smartphone

on the Tizen OS but today in an interesting move a device namely the "GT-I9300_TIZEN" has reached the

Wi

-Fi Alliance for certification.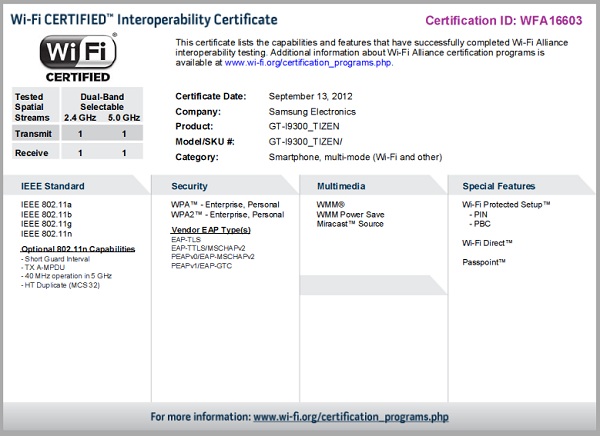 Now if you remember, then GT-I9300 is the model number of Samsung's currently hot selling Galaxy S III smartphone.
So is it that Samsung is planning to bring a Galaxy S III variant on the under-development Tizen OS ? Probably! Or there also might be a chance that the Korean giant is working and developing the OS using the S III or just testing it all together.
 
But that brings us to another question and that is, if the company is only testing the new OS over the S III hardware, why would it land for certification? Well we do not have any concrete answer to any of the question right now, but with the GT-I9300-TIZEN getting certified at Wi-Fi Alliance, the progress is on track for a 2013 release.
 
And by the way, the GT-I9300 Tizen will support dual-band Wi-Fi, Wi-Fi Direct and also Miracast standard on arrival.