Well if you thought that Nokia was already done teasing the iPhone 5 with the Maps App failure, and comparing it with its own Mapping and Navigation service, here's more from the Finnish giant.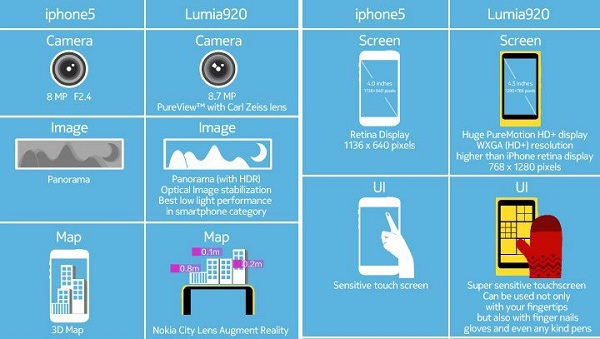 Taking to its Facebook account, Nokia UK posted a picture where it goes on to compare the various features of the Nokia Lumia 920 head-to-head with the iPhone 5 with the tag, 'Good things come to those who wait…'

Moving ahead, Nokia compares the Apple iPhone 5's 8 MP

iSight

camera to that of its 8.7 MP

PureView

camera with Carl Zeiss lens on Lumia 920. Now the actual test results between the two

smartphones

are not yet out but we can make out who the winner would be.

Next up Nokia compares the larger 4.5 inch PureMotion HD+ screen with 332ppi with that of the iPhone 5's 4 inch Retina Display with 326ppi so Lumia wins here too. Nokia also points out that the innovative screen on the Lumia 920 can be used while having the gloves on which is not possible on the iPhone 5.

Coming to Maps, well currently the Maps app on

iPhone

5 is a disaster and the augmented reality with

Nokia City lens

has an advantage but we'll wait and decide it later.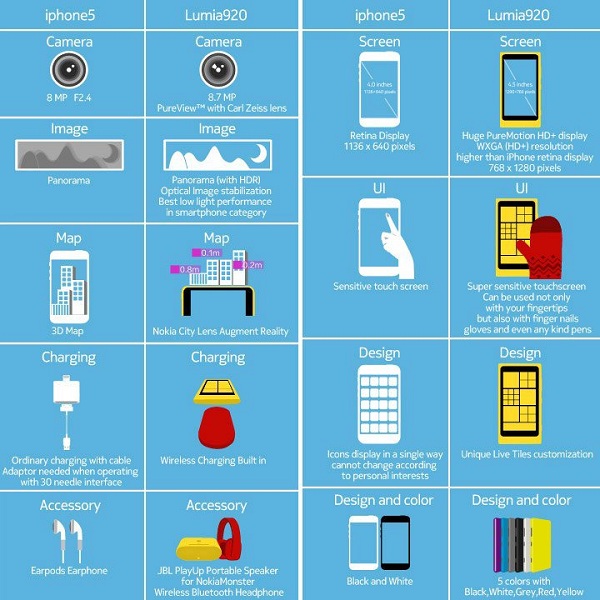 Likewise many other features have also been compared between the two

smartphones

, but the most interesting of all is the

colour

options that the Lumia 920 will be available in.

If you remember, Nokia has announced that the Lumia 920 will be available in 5

colour

options: Black, White,

Grey

, Red and Yellow. But if you check out the image, you can also spot the Nokia Lumia 920 to appear in two more

colours

: Purple and Cyan.

So are we going to see the

colour

options of the Lumia 920 increasing probably after the release of the

smartphone

? We think so. Until then check out the other comparisons and also let us know which

smartphone

of the two wins in your opinion?