Samsung's Wave devices to hit the 10 million mark soon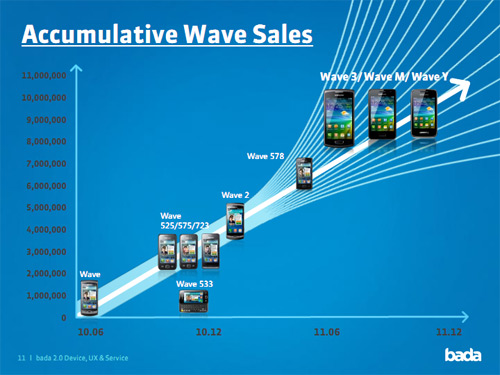 Yesterday we saw the Galaxy S II making records, and now its Samsung's Wave series that is making news. The Wave range of handsets were launched back back in May 2011 with the Wave S8500 and now these handsets are going to hit the 10 million milestone before the end of this year. Running on Samsung's own Bada OS, these devices have caught up with consumers as they are a unique experience to use. These handsets also feature the Samsung's TouchWiz User Interface which is now catching up with Android users.
Recently Samsung had introduced the Wave M, Wave Y and the Wave 3 into this series and these handsets will help Samsung cross this milestone in next few months though an official date of launch for these handsets is not yet available but they are to be available for consumers anytime in this quarter.