Yes we associate Samsung with Android and its Galaxy devices the most and Windows Phone with the Nokia Lumia devices but in case you forgot Samsung has been making Windows Phone devices as well and a report suggests Samsung might be working on a Windows Phone flagship for the upcoming year.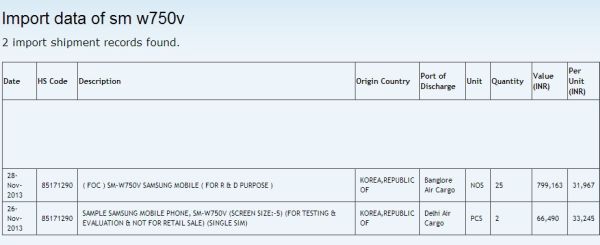 A Samsung device with the model number SM-W750V has leaked in import records in India and it is a Windows Phone device. The records reveal that the Samsung has been sending the device to India for testing and evaluation. The pic also suggests the price value of the device which is Rs. 31,967 for R&D and Rs. 33,245 for "testing and evaluation", which is $512 and $533 confirming it as an high end device.
There is no concrete evidence of the specs in the device but rumors suggest of a 5-inch Full HD (1920 x 1080) display. We know that the Windows Phone GDR3 update brought support for Full HD displays and Quad-Core processors like the Snapdragon 800 so we might well see them in the device and considering Samsung's last Windows Phone flagship, the Ativ S was nearly identical to the then Android flagship of theirs Galaxy S3 so we might well end up seeing their new Windows Phone flagship akin to how the Galaxy S5 will be which has been rumored to come with a 64-bit processor and a metal body.
Samsung hasn't giving a whole lot of attention to the Windows Phone platform. Their last Windows Phone flagship was the Ativ S and since then they have launched only two other carrier exclusive Windows Phone handsets for US dubbed Ativ Odyssey and Ativ S Neo which have been rather unimpressive and Samsung hasn't brought any of its marketing muscle to their Windows Phone group of devices but we hope Samsung ups the ante here and well give some competition to Nokia although they surely don't need to as Android is bringing them all the gold.