State Bank of India (SBI) has announced its partnership with Mukesh Ambani-led Indian telecom operator Reliance Jio. With this partnership, this public sector bank aims to accelerate the digital transactions carried out by its customers.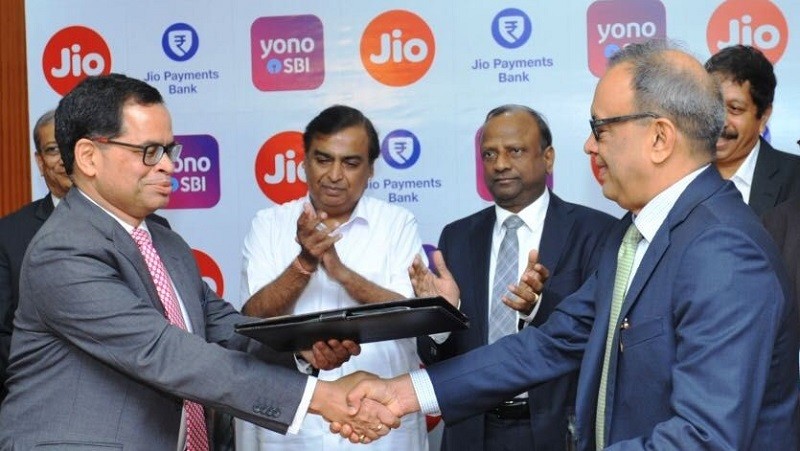 Apart from accelerating digital transactions of customers, this partnership will also help SBI increase its digital customer base multi-fold. If you are an SBI customer and are into digital banking, you must have heard of SBI YONO – a platform that offers services pertaining to banking, commerce and finance to SBI's customers. Well, with this partnership, YONO's services will be available through the MyJio platform as well. Not just that, the MyJio app will also get services of SBI YONO as well as Jio Payments Bank.
This partnership between Jio and SBI will also bring in exclusive deals for Jio Prime members from Reliance Retail, Reliance Jio, and other partner brands. Furthermore, SBI customers will also be offered reward points through SBI Rewardz – a loyalty program from SBI.
Apart from all this, SBI customers will also be availed special offers on JioPhones, and, Jio will also help SBI in launching customer-centric services like video banking by providing network and connectivity solutions.
Speaking on this partnership with Reliance Jio, Mr. Rajnish Kumar, Chairman, SBI, said, "As India's largest Bank with leadership in digital banking, we are delighted to partner with Jio the world's largest network. All the areas of co-operation are mutually beneficial enhancing the digital foot-print for SBI customers with superior and rewarding customer experiences."
Speaking on this partnership with SBI, Mr. Mukesh D. Ambani, Chairman, Reliance Industries Limited, said, "The scale of the SBI customer base is unmatched globally. Jio is committed to using its superior network and platforms combined with the Retail ecosystem to accelerate digital adoption serving all the needs for SBI's and Jio's customers."