YouTube starts testing Instagram-like Stories
If you are active on social media, you must have heard about Stories. Yes, that feature which was invented by Snapchat and blatantly copied by Facebook-owned Instagram. After Instagram, the Stories feature was introduced on WhatsApp as well as Facebook. And now, the latest member to join the group is YouTube.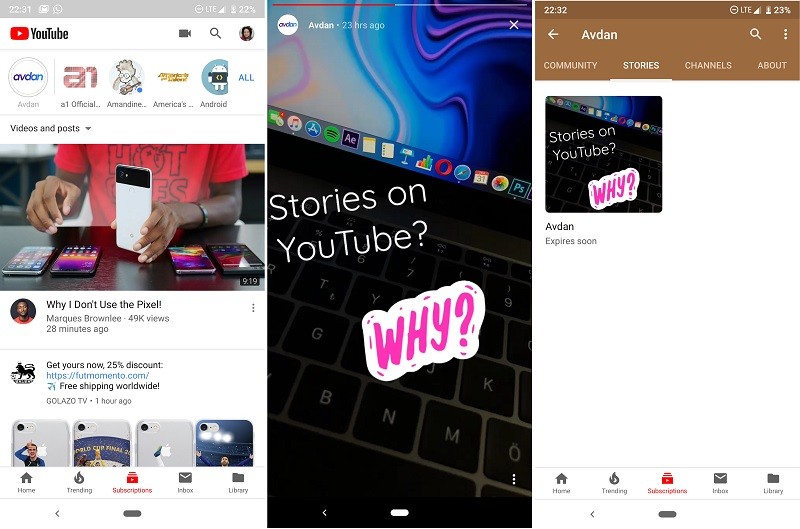 Last year in November, YouTube announced Reels which is its version of Stories, and now, after more than eight months, YouTube has started testing it as… well… Stories. Just like the Stories feature in other apps like Facebook and Instagram, YouTube's Stories also appear at the top of the app in a Stories Bar.
Those who think YouTube's version of Stories is different than that of Facebook and Instagram's are wrong. YouTube's Stories look almost exactly the same as Stories on Instagram. The Stories also reportedly appear with a subscribe button, but, there's no way for users to reply to the Stories which is possible on Instagram and Facebook.
This feature is currently only available to select users which indicates that this is a server-side test. However, if you happen to be someone who has it enabled, you can try uploading a Story on YouTube by clicking on the camera icon at the top, tapping on Story, taking a photo with the camera, and then hitting the 'Post' button. You can check out the video below to see how it's done.
Do you happen to be one of those lucky users who have the Stories feature enabled on the YouTube app?