Before smartphones were mainstream and were considered a luxury for most of the part, people used to have feature phones and multimedia phones. At that time, chatting meant talking to each other by sending SMS. However, with widespread usage of smartphones, instant messaging apps became popular which relied on active Internet connection to send and receive messages on your smartphone. And, when we talk about instant messaging, the first app that comes to our mind is WhatsApp.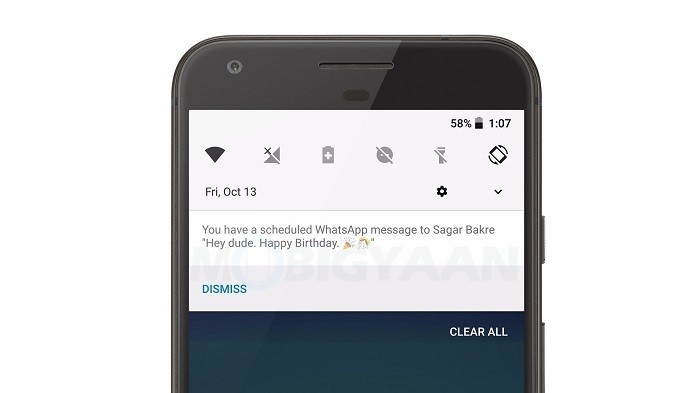 Agree or not, but WhatsApp has played a major role in reducing the usage of SMS for chatting. It's fast, simple, reliable, and more importantly, it can send multimedia files like photos and videos much more easily. Having said that, even if WhatsApp has almost replaced SMS now, it still lacks one feature which is found on some smartphones. It is the ability to schedule messages. Yes, you cannot schedule WhatsApp messages to be sent to your contact at a specific date and time. Well, at least WhatsApp doesn't have any such feature built-in. However, you still can schedule WhatsApp messages. Want to know how? Well, read on.
How to schedule WhatsApp messages
Step 1: Download and install the 'SQEDit Scheduling App' app from the Google Play Store to schedule WhatsApp messages.
Step 2: Now open the app and swipe through the introduction. At the end of the introduction, you will see an option saying 'Done' at the top-right corner of the screen. Tap on it.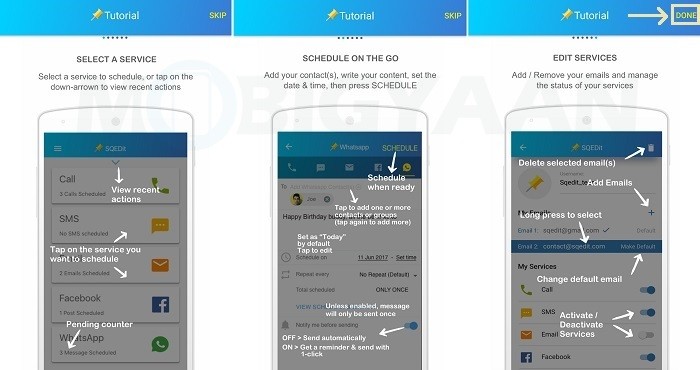 Step 3: Now, you will see the login screen. You can either sign in with your Facebook account or create a new SQEDit account. We did the latter and signed in. After that, you will see a listing of supported services which include Call, SMS, Email, Facebook and WhatsApp. Select WhatsApp and tap on Done.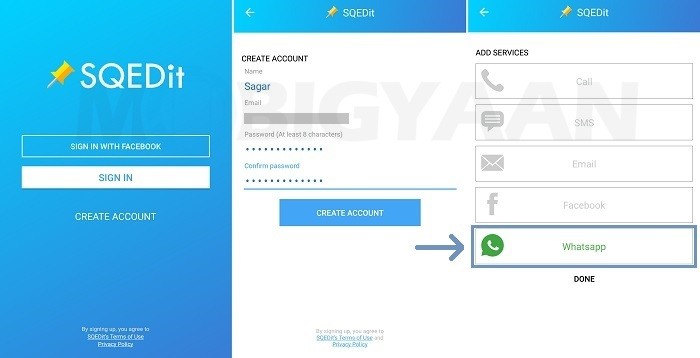 Step 4: After that, you will again a see a list of all services. Again, tap on WhatsApp. This app relies on automation to schedule WhatsApp messages, it requires permissions to certain accessibility settings, hence, when a message pops up saying the same thing, just tap on the Open Setting option shown along.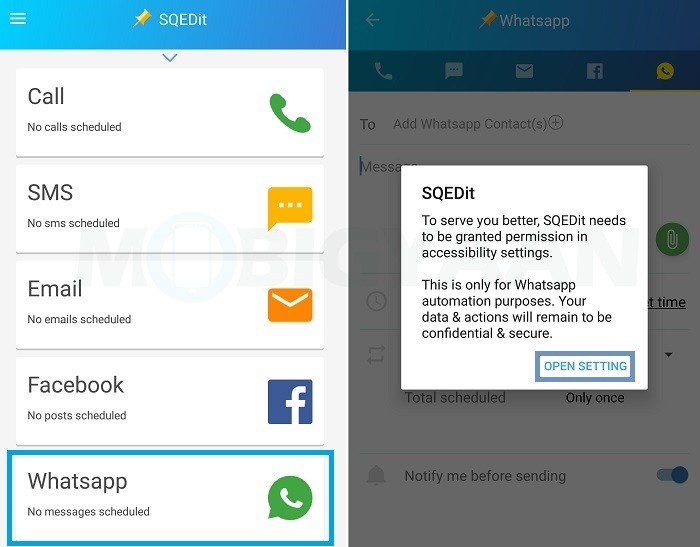 Doing so will take you to Accessibility settings menu. There you will see the SQEdit app listed. Just tap on the app name, and then tap on the toggle button to grant permissions to accessibility settings. After that, tap on Ok to confirm your action.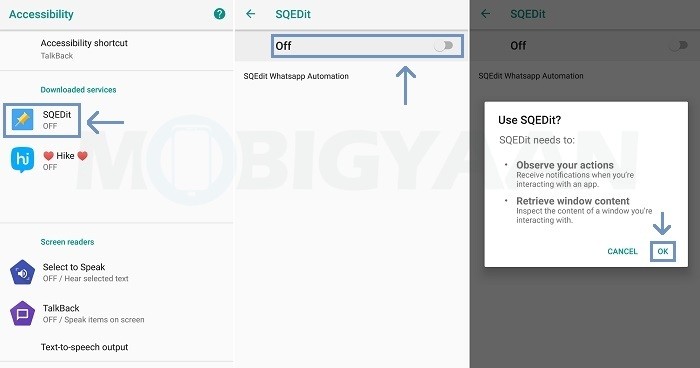 Step 5: You will now be taken back to the SQEdit app. To schedule WhatsApp messages, tap on the + icon shown next to the 'Add WhatsApp Contact(s)' label. This will open the WhatsApp app. From there, select the contact you want to schedule message for.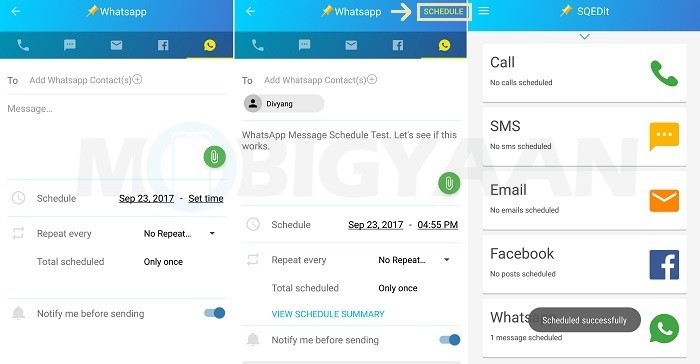 You will be taken back to the SQEdit app after selecting the WhatsApp contact. Now type in your message and select the date and time to schedule your WhatsApp message. You can also schedule WhatsApp messages to be sent repeatedly every hour, day, week, month or year. After you are done, just tap on the Schedule option located at the top-right corner of the app screen.
Also, if you have left "Notify me before sending" turned on, the app will require your permission to send the scheduled message to your WhatsApp contact. You can tap on 'Send' to approve or 'Dismiss' to disapprove. If you tap on Send, you will get another notification which will confirm that your message has been sent to the recipient.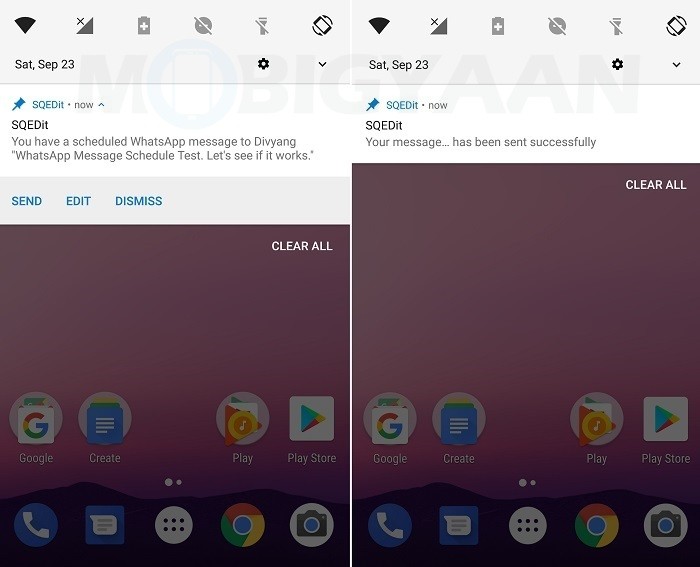 However, to send the scheduled WhatsApp messages to your contacts without any intervention, you will have to disable the "Notify me before sending" option. Moreover, if you disable it, you will also have to disable the screen lock of your smartphone.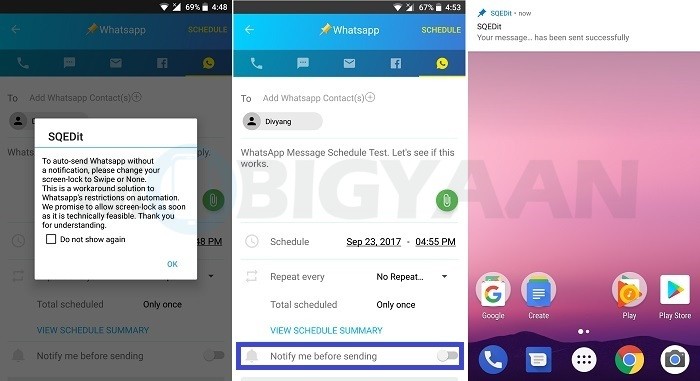 Having said that, once the screen lock is disabled, the app works beautifully and actually sends the scheduled WhatsApp messages to your WhatsApp contacts by automatically opening the WhatsApp chat and sending the message at the specified date and time. But again, to achieve this, you are giving away the security of your device, which in our opinion should be of paramount importance.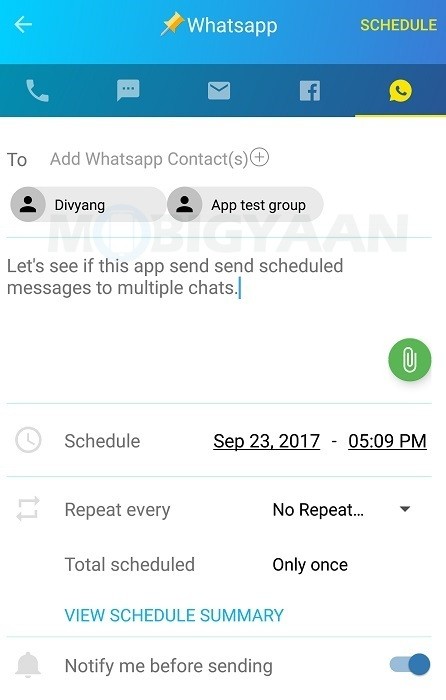 Having said that, using this app, you can schedule WhatsApp messages to be sent automatically to multiple people at once. Even the groups, which is impressive.
So, that's how you schedule WhatsApp messages. The reason to schedule WhatsApp messages can be different for different people. Like being the first person to send wishes to someone on his/her birthday by dropping a message exactly a midnight. Isn't it?
We hope that you were able to schedule WhatsApp messages using this app. If you know of any other app which gets the job done easily and in a much better way, then do let us know about it.
Also, don't forget to take a look at our 'How-To Guides' section for more such tutorials.