Razer, the company very well known for making gaming peripherals and laptops, has been long rumored to launch a gaming smartphone dedicated for… well… gamers. Two days ago, the company even teased its upcoming product which is going to be unveiled on November 1. While, there's no official word on what it would be, the company is expected to unveil its first phone – the Razer Phone – for gamers, and, its specifications have just surfaced online.
WATCH for our biggest unveiling…
👁️https://t.co/gwrwrxbhf9 pic.twitter.com/OyBFVocHOF

— R Λ Z Ξ R (@Razer) October 11, 2017
The Razer Phone has appeared on benchmarking website GFXBench which revealed almost all the specifications of the Razer Phone. According to this GFXBench listing, the Razer Phone is powered by Qualcomm's latest and greatest Snapdragon 835 SoC that's paired with a whopping 8 GB of RAM and backed by Adreno 540 GPU. However, this won't be the first smartphone with 8 GB RAM as that honor goes to the ASUS ZenFone AR followed by the OnePlus 5.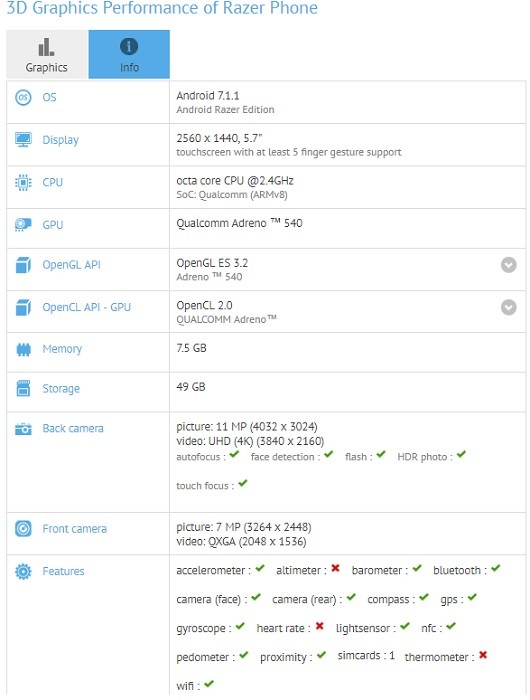 The Razer Phone put through GFXBench was running Android 7.1.1 Nougat, and, we are unsure whether it would be running Android 8.0 Oreo at the time of launch. Having said that, don't expect stock Android on the Razer Phone as we are pretty sure that Razer will customize the software a lot to throw in features that would be enticing to hardcore mobile gamers.
Furthermore, the Razer Phone has a 5.7-inch display that has a resolution of 2560 x 1440 pixels. Well, as you can see, this isn't is display with 18:9 aspect ratio, hence, don't expect the Razer Phone to have bezel-less design.
Other specs include 64 GB of internal storage, 12 MP rear camera and 8 MP front camera. As is the case with GFXBench, there was no information about the battery inside the Razer Phone, however, we expect the company to ship the phone with at least 4000 mAh battery, because you know, gamers would appreciate a big battery so that they get some extra mileage while gaming on the Razer Phone.
Back in January this year, Razer acquired Nextbit, the makers on Robin, hence, it's safe to say that the Nextbit team is deeply involved in the development of this Razer Phone. After all, they are more experienced than Razer when it comes to making a phone.
That said, we are still more than three weeks away from the launch of Razer Phone, hence, we are expecting more information about it to pour in over the Internet in the coming days.