Apple introduced Siri, the personal assistant for iPhone 4S users with the device with the initial support of English language. But later on as the iPhone 4S reached far away shores Apple released Siri in the Japanese language and has confirmed that it will go on to arrive in Italian, Chinese, Korean, and Spanish late in 2012.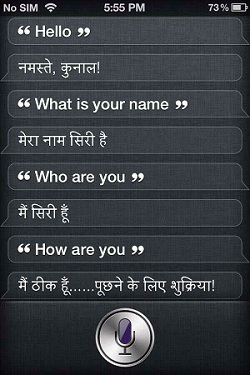 But have you heard or even thought how it will feel when Siri speaks to you in Hindi? Well that particular thought may be reality soon. Siri, your personal assistant will now responding to all your queries in Hindi.

Well this has been achieved by Kunal Kaul, who with the help of a proxy server has been able to make Siri respond to your questions and interact with you in Hindi. He says that the Siri over his mobile connects to his Google API server (which is a little confusing, may be for translation) and then returns the results.

To prove that Siri responds in Hindi, Kunal has posted a video on YouTube (which you can find below) to support his hard work. The most interesting thing in the video is that Kunal talks to Siri and question her in English and it responds to him in Hindi by vocal and by on screen text.

Kunal has said that there is a lot of work pending to bring out a stable and full-fledged Siri in Hindi version and we are now as excited as you and Kunal himself to see more of the Siri action in our language, Hindi. Until then catch Siri in Hindi-action below