Snapchat introduces Snap Map so that you can see where your friends are
Snapchat comes into headlines when any of its feature is blatantly copied by someone. Well, Snapchat Stories is that feature which has been copied by Facebook across all its apps, and, it's become more popular than Snapchat Stories itself. Well, to bring in something new to its users, Snapchat has now introduced Snap Maps.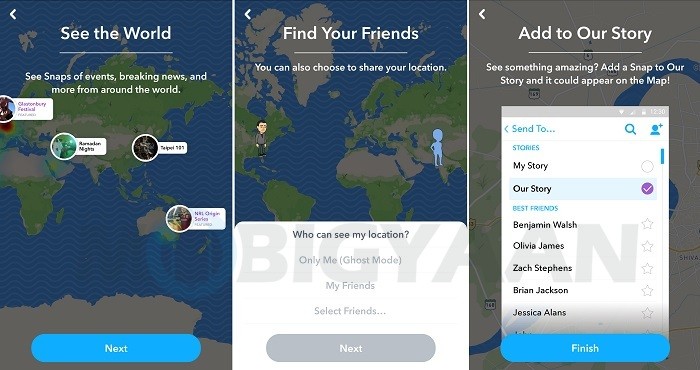 With Snap Map, Snapchat users can see where their friends are and what they are up to. To access Snap Map you will have to pinch on the screen to zoom out. Once that's done, you will see a map with Stories shared from different regions.
You will also see your friends on the Snap Map, and, if they have shared any Story, it will appear too. Well, this is nothing but location sharing. If your Snapchat friends have enabled location sharing, their Actionmoji will pop up on the Snap Map. Besides, these Actionmoji will appear whenever you open the Snapchat app.
Moreover, users get to decide whom they want to share their location with. It can be all of their Snapchat friends, or, maybe a selected few. And yes, there's also a Ghost Mode if you don't want to share your location with anyone.
Furthermore, if you want your Story to appear on the Snap Map, you will have to select the Our Story option in the Stories menu. This feature is available for both Android and iOS users. You can update your app to see if you have received it.
You can check out the video below to see how exactly Snap Map works.
Download Link: Snapchat for Android | Snapchat for iOS