There are a number of reasons people want to access a VPN network and being the primary one why VPNs are popular, it gives you an added security while you surf the internet so to secure your private data and prevent data theft. Whenever you try to connect to a public network, it provides a strong protection against the hackers through its encrypted network. These are the gathered 9 best free VPN apps for Android smartphones and tablets.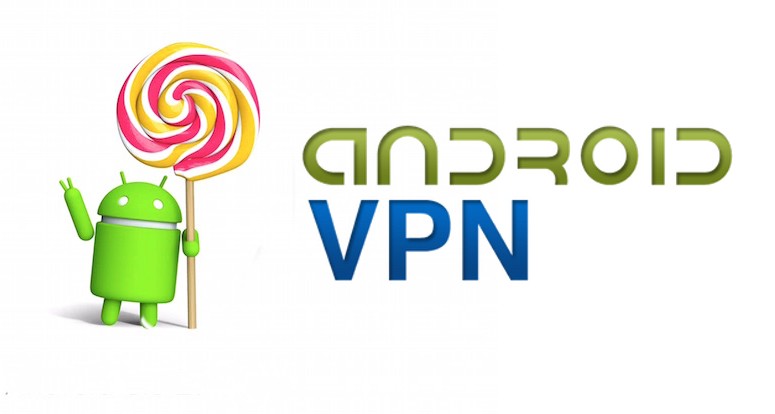 1) Hotspot Shield VPN Proxy
The most popular VPN you can get for your Android is the Hotspot Shield VPN Proxy. Unlock and view any website and secure your private data on a public Wi-Fi network. Even if Facebook or whatever website is blocked can be accessed using the VPN apps. Hotspot Shield can be one app that can unblock the websites that aren't accessible. Change IP address and location from countries like US, UK, Canada, Australia and more.
Features of Hotspot Shield VPN Proxy
Hide your IP address, identity, and location.
Unblock blocked websites and apps.
Choose locations from US, UK, Canada, Australia, and more.
Secure all online activities.
Prevents personal information theft.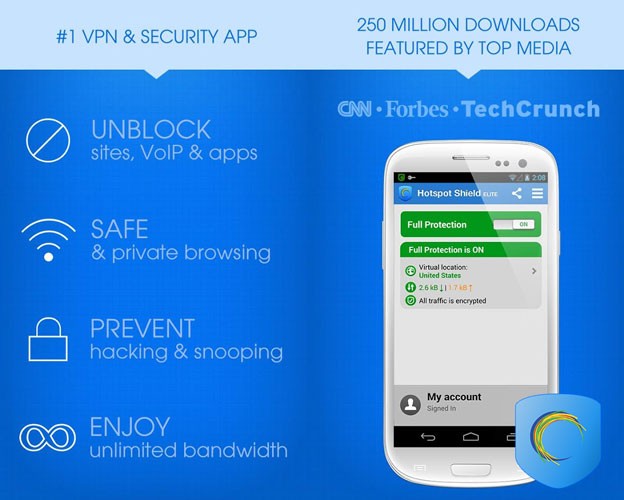 2) CyberGhost – Free VPN & Proxy
CyberGhost is a free VPN app for Android that enables you to surf the internet for free securely. The free version of the app offers 23 servers from 15 countries whereas its premium version can give you 300 servers from 23 countries.
The interface is very clean and easy to use, it shows you your current location. You can choose a location from a list of countries. CyberGhost VPN is one nice app if you want to connect to a secure network without the fear of someone poking around in your browsing data.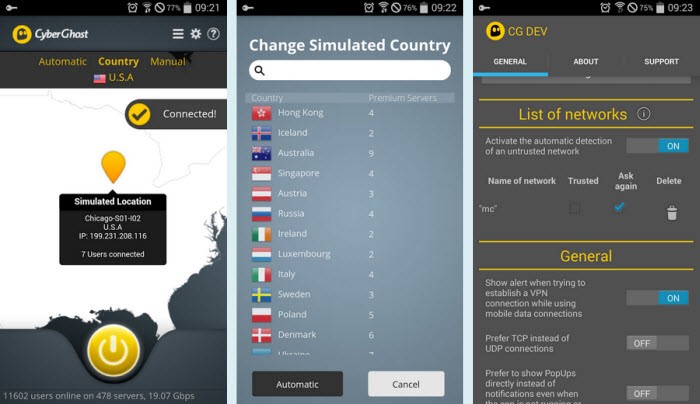 Also, check how to access blocked websites using CyberGhost VPN.
3) SecureVPN Free Online Privacy
SecureVPN is one of the best online security and privacy protection apps for your Android. Access any website safely and privately with just one tap. Choose the preferred country to hide your IP address and location information if you are connected to a public Wi-Fi.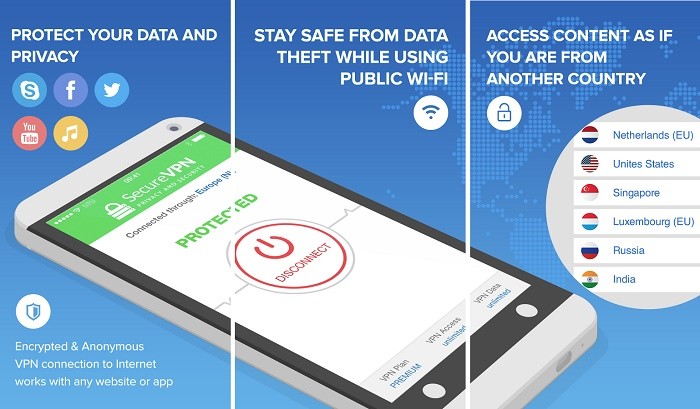 Features of SecureVPN Free Online Privacy
Easy to setup and use.
Unlocks websites, unlimited access to VoIP calls.
Get 1000 MB VPN data Free
Free unlimited VPN bandwidth
Safe web surfing
Data and privacy protection
It also offers a premium subscription in which you can avail everything unlimited.
4) Turbo VPN – Unlimited Free VPN
Turbo VPN is a VPN app that will give you unlimited access to the websites you want to surf for free without any location-based restrictions.
Unlike other VPN apps that require registration, you can use the VPN with one tap without any registrations and conditions. The interface is minimalist and easy to understand. It can be a perfect alternative to the conventional VPN apps.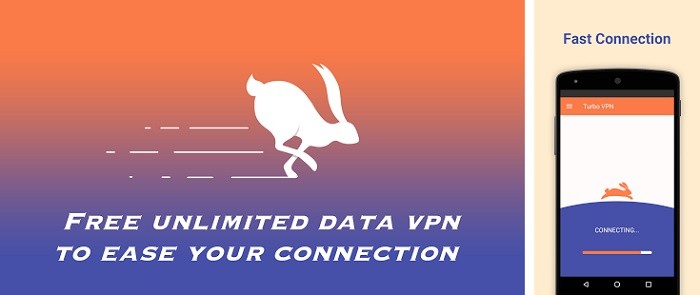 5) Hola Free VPN Proxy
Hola Free VPN is a VPN app for Android with interesting features. Hola is a free peer to peer VPN app that works by sharing idle resources of its users. Hola is 100% free to use, however, paid for its commercial version of VPN service to businesses. With Hola, access blocked websites in your country through an innovative peer-to-peer network.
Features of Hola Free VPN
Browse the internet anonymously and privately
Easy access to your favorite content
View apps and sites from around the world
100% Free to use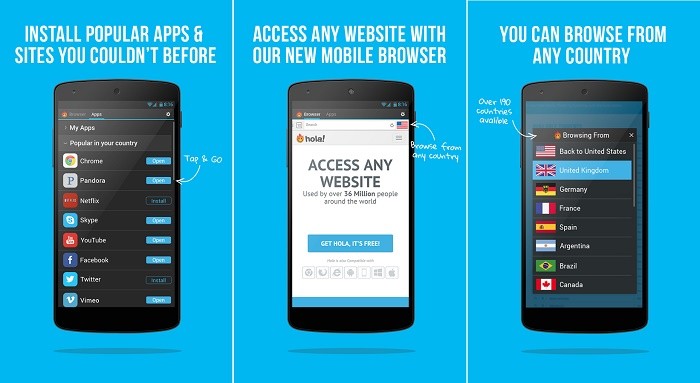 6) VPN Master
VPN Master is 100% free VPN app for Android. It offers 20+ countries with unlimited bandwidth. The interface is simple, one click to connect. Unblock blocked websites such as Netflix, YouTube, Twitter, Facebook, Viber, Skype, WhatsApp, etc.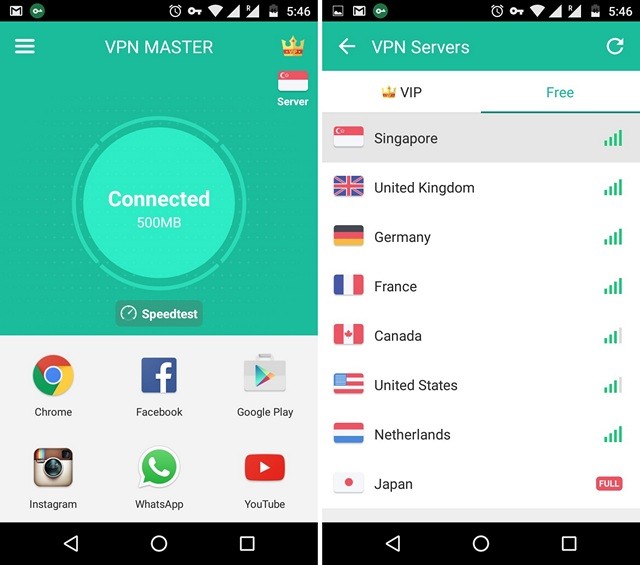 Features of VPN Master
Fastest VPN ever made
User-friendly interface
20+ locations to select
No restrictions on torrents, file sharing websites
Unblock major websites
No logs, fully anonymous
It's free
7) TunnelBear VPN
TunnelBear VPN is really simple and intuitive VPN service for your Android. It removes the regional restrictions on certain websites, so access any website from anywhere around the world.
Tap any accessible tunnels on the map to connect to the secure network. The interface is what keeps it different from the other VPN apps for Android. If you want to try out this app, go for it, it's straightforward and appealing.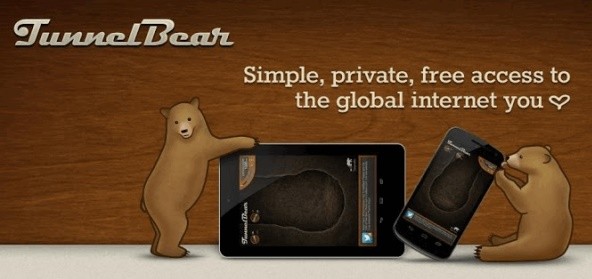 TunnelBear allows you to take advantage of several VPN servers around the world. Free users can avail 500 MB of data every month. If you want more data, TunnelBear charges a premium for a monthly subscription.
8) SecureLine VPN
SecureLine VPN is made by Avast, the world's most popular Antivirus. Avast SecureLine VPN protects the users from identity and data theft by secured tunnel whenever you are connected to open networks or public Wi-Fi networks. It provides one-touch protection if you are connected to any unsecured Wi-Fi.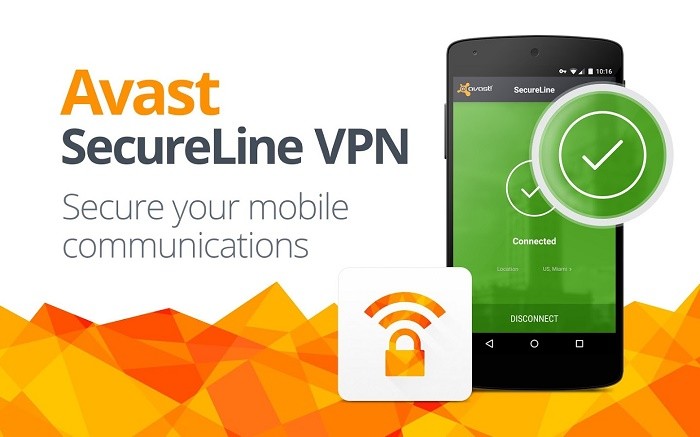 The SecureLine VPN is free to try for 7 days for a monthly subscription or 14 days for a yearly subscription. The subscription can be canceled anytime.
Features of SecureLine VPN
Fast and reliable
One-touch protection on unsecured public Wi-Fi
Anonymous browsing
Unblock apps and websites
Select your preferred location
On/Off dashboard widget for instant access
9) Rocket VPN – Internet Freedom
With Rocket VPN, unblock geographically restricted content, blocked websites, games, and more. Rocket VPN lets you encrypt your private data and surf anonymously. It provides a secure network and prevents you being monitored by third parties.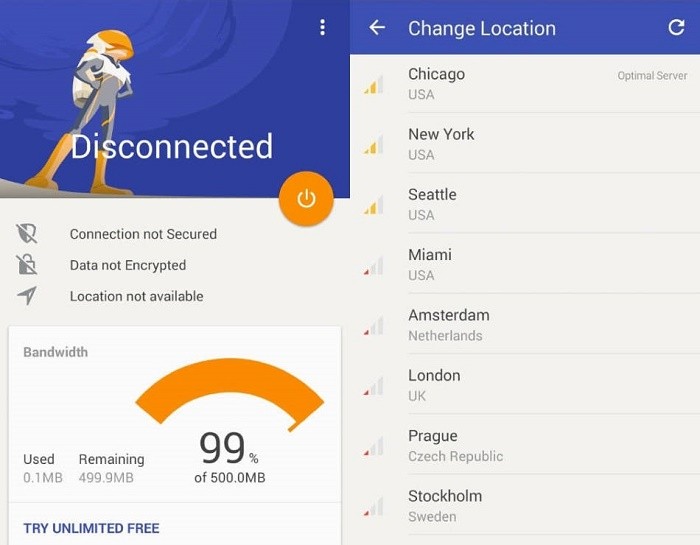 Features of Rocket VPN – Internet Freedom
Access blocked websites and apps
Surf securely
Quickly launch your apps
Secures your network
Protect identity theft
These are the top 9 free VPN apps for Android I think are the best. If you know any other VPN apps, do let us know in the comments below.