Fresh reports about a Sony G8441 model say it has just hit AnTuTu. The phone was just spotted days earlier listed on a Polish website. There was another model named G8341 with it.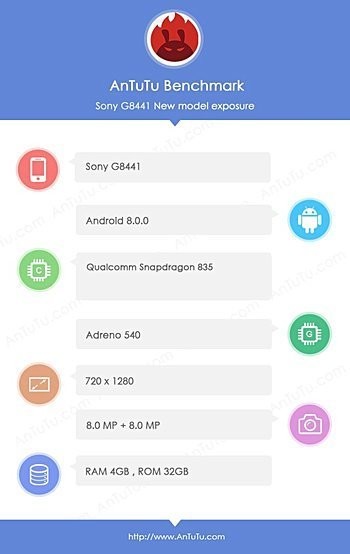 The listing on AnTuTu says the device packs in a Snapdragon 835 system-on-chip along with the Adreno 540 GPU. The phone also has a 720p display, Android 8.0 (O), 4 GB of RAM and 32 GB of internal memory. Two cameras sensors are shown by the benchmark, both of 8 MP capacity.
The Polish retailer pegged the price of the phone at €650 (or $740) and it was offered in black, blue, pink and silver colours. Traditionally, Sony unveils high-end phones at the IFA event, so it wouldn't be a surprise if we see this model there as well. The G8441 might very well be the Xperia XZ1 Compact with 4.6-inch screen size as it shows a lower resolution here. But this is just our take.
a word of caution. As far as benchmark specs go, they can get some things quite wrong sometimes. Especially the Android 8.0 part seems a little bit off. Nonetheless, that is what the benchmark says.