With many device manufacturers bringing in the new Android ICS update to their devices, we can see that the latest OS version is steadily growing month over month.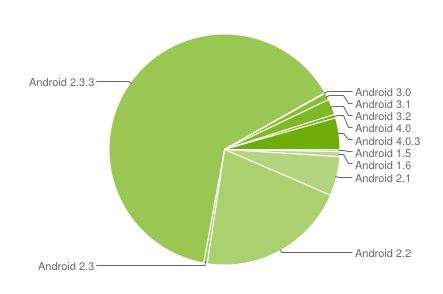 The stats released by Google show a breakdown of all the versions of Android in which Android 2.3 Gingerbread is still on the top.

The latest version, Android 4.0 Ice Cream Sandwich has taken a leap from 2.9% since last month to 4.9% this month. The growth is probably due to the new updates flowing in for existing devices and also the launch of HTC's One series.  Android Honeycomb is still low at 3.3%, and it isn't surprising as Honeycomb tablets haven't been selling all that well.  Android 2.3 Gingerbread is still on the rise and gained from 63.7% to 64.4% in just a month.
Android 2.2 Froyo and 2.1 Eclair are taken a fall with 20.9% and 5.5% respectively and Android 1.6 Donut and 1.5 Cupcake being the least popular versions with 0.7% and 0.3%.
So what version of Android are you using?