StratosHear Launches MobiAdz! Heard, Competition?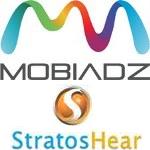 The perennial Mobile Revolution is set to continue till eternity. That's exactly what StratosHear repeated by launching MobiAdz today, it's premium Mobile AdvertisingNetwork. Out of the plethora of Mobile Advertising entrants, MobiAdz stands out as the one stop solution for all Mobile Advertisers with its advertising offerings of including Mobile Internet ad formats, viz. banner, video and text. 
The unique features of MobiAdz which makes it stand apart from the crowd are –
Incorporation of Artificial Intelligence into proprietary algorithms ensuring maximum targeting & rich campaigning results.

Ensuring deliverance of advanced campaign optimization techniques for both, its publisher and advertiser.

Leveraging of rich experience of working with global leading telecom operators through StratosHear.
The welcome to the market place amidst stiff conception has however been phenomenal for MobiAdz, with already over 100 publishers registering for their services. Mr. Vinay Kumar, CEO StratosHear, couldn't have sounded more excited when he stated, "We are now uniquely positioned to offer the broadest set of mobile advertising solutions that can reach the breadth of mobile consumers, from the entry level handset to the highest end smart phone user, and from a rural village in India to anywhere in the world".
The Competition – MobiAdz has stiff competition from the 'Big Boys in Mobile Advertising' such as AdMob, InMobi and iAd. Google, last year, pumped in US$ 750 Million to buy-outAdMob, ultimately resulting in greater revenues & reaching out new horizons. InMobi implemented the very well known 'Market Expansion' strategy by expanding into US, which led to extra funding by their existing investors. And, with Apple's backing, iAd being relatively new, is still set to 'only' grow. Well, MobiAdz sure have to gear up in a big way to face the competition & emerge victorious.
Wondering on who will be the Ultimate Winner ?  The One, who can fine-tune their campaigns based on user needs, measure performance through real-time reporting and boast of a stronger ROI. Note it !!