Who has not heard about our very own and the real fighter Yuvraj Singh defeat Cancer and survive between us today but unfortunately not everyone is as lucky as him.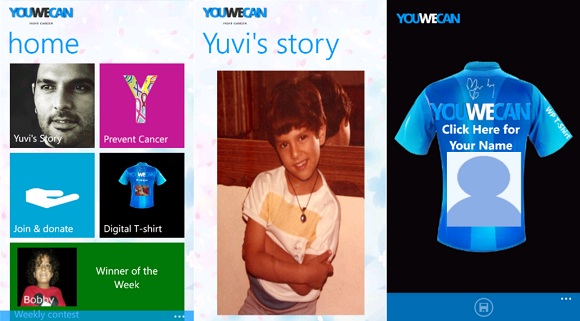 Cancer is curable if it is detected in its early stages but sometimes people are now well off enough to afford a Cancer Detection Test. But if you wish to help to help in the cause of fighting against cancer then now you can do it by just buying the 'YouWeCan' for your Windows Phone smartphone.
Microsoft has exclusively announced the launch of the 'YouWeCan' app for Windows Phone and pledged its support to champion cricketer Yuvraj Singh's cancer awareness initiative 'YouWeCan Fight Cancer'.

The app costs Rs. 565 in the Windows Phone marketplace and it is the amount equal to and needed for a single cancer detection test. Once you buy the app, the large amount of the money goes directly to Yuvi's foundation and not just that, you can also donate money or volunteer time with the Yuvraj Singh Foundation or use the App to buy YouWeCan T-shirts, Caps and Ribbons

The basic aim of the App is to spread awareness about Cancer. It includes key facts about different types of cancer, and benefits of early detection. The app also puts the spotlight on Yuvraj, with exclusive pictures and content.

Not just that, with the click of a button, users, get an opportunity, to create their own personalized digital T-Shirts, signed by Yuvraj himself. These digital T –Shirts can be used by the user to start as many personal campaigns as needed against cancer; they can be used on Facebook or Twitter as a profile picture which will also help spread the word about Cancer.