Swype Launches on Samsung Omnia II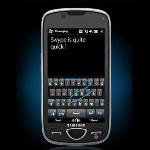 Swype, an innovative text input technology, today announced its first consumer launch on one of the hottest smartphones set to hit the US market, the Samsung Omnia II . Swype's patented technology provides a faster and more intuitive way to input text on touch-screens. With one continuous finger or stylus motion across the keyboard, users can enter text at over 30 words per minute. Equally important, the underlying software provides a high degree of error tolerance making it easy for first time users to successfully enter text.

"We're very excited to launch Swype on the Samsung Omnia II, a leading edge device with a responsive and vibrant screen, perfect for Swype input," said Mike McSherry, CEO of Swype."With the growing popularity of touch-screen devices spanning across a variety of consumer products, the potential for Swype's technology is extremely good."

Created by Cliff Kushler, co-inventor of the T9 predictive text technology, which is currently used on over 4 billion mobile phones worldwide, Swype is set to again revolutionize the way users communicate via text input. With a database of over 65,000 of the most frequently used words, Swype's adaptive function also allows it to regularly learn new words, phrases, phone numbers and more data unique to its owner. Swype is designed to work across a variety of operating systems and devices such as phones, tablets, game consoles, kiosks, televisions, and GPS units among others.
PS : Swype is not available in India yet.