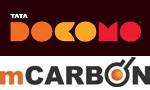 Now you can greet you callers with not just Tunes but with you Name. TATA DOCOMO partnered with mCarbon, a telecom application provider in the VAS domain to launch first of its kind service – Name Tunes – in the telecom VAS Space, This service allows subscriber to greet callers with his/her Name & personalized message of their choice from a set your template messages.
To activate this service, TATA DOCOMO subscribers have to SMS "First NAME "and send it to 52100 (Toll Free). For Ex if the name is "Mihir" then Type "Mihir" and send it to 52100. Subscription charges are Rs. 30 per month and Name Tune download will be charged for Rs. 15 for 90 days.
Will you use Name Tunes? Let us know what do you think about TATA DOCOMO's new Value added service.