A couple of days back, we gave you a look at the backside of the upcoming full QWERTY BlackBerry N-Series

smartphone

for the first time.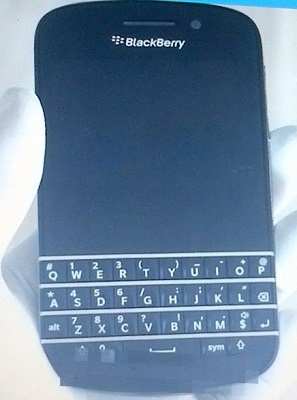 And as we are nearing the official launch of the BlackBerry 10 OS which is scheduled for January 30th, 2013 and having an extensive look at the drool-worthy BlackBerry Z10

smartphone

, a picture has just popped up showing the face of the BlackBerry N-Series.

Going by the looks, the QWERTY N-Series matches with the renders which we saw in a leaked promotional video, months ago. The physical keyboard also is similar to the physical part which leaked sometime back.
 
The screen definitely dominates the front of the 
smartphone
 as we do know that the BlackBerry 10 OS is touch and gesture-centric and will arrive with a display resolution of 720 x 720 pixels which has already been confirmed by RIM.
And it was really necessary for Research in Motion (RIM) to bring in a full QWERTY BlackBerry 10 smartphone as it has been the identity of BlackBerry smartphones since ever.
 
For now, we are scarce on the specifications that the N-Series or the X10 (Possible official name) would pack in but it might not be too long until more details flow in.