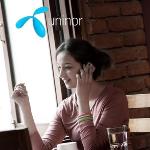 These days when dependency on mobile phones is very high because it keeps you connected to the whole world, International roaming enables subscribers to stay in touch with their friends and family even when they are travelling abroad.
Here are some tips for International travellers to stay connected with friends and family while travelling abroad.
Turn on your mobile phone when you arrive in a new destination. This is free.

Receiving of SMS is free.

Remember to add "+91" in front of the number when you call your friends and family in India. The easiest way is to add this in front of the numbers in your mobile phone address book.

Calling to a local number in the visited country will work with and without the country code.

It is often 50% cheaper to receive a call than to make a call home to India.

Many applications in your smart phones automatically access data services. These include emails, twitter, maps and others. Make sure you turn automatic data download off, if you don't need it, while travelling abroad.

Turn on your mobile phone when you are back in India to register in your home operator's network.

Remember that you pay for receiving calls so don't expect this to be free as it is in India.

Remember that calling international Free Toll Numbers has a local charge which you will be paying for.

Data packages do not include data services abroad. This will be charged separately and it is advised to be careful when using data services as consumption in MB is difficult to measure.

Don't forget mobile charger device and possibly an adapter.
Thanks Uninor for sharing these tips.