We recently shared our views on smartphone displays, discussing about what should be an ideal size for a smartphone display. Now that same thing applies for tablets, and we know a maker that is going over the edge on tablet display sizes.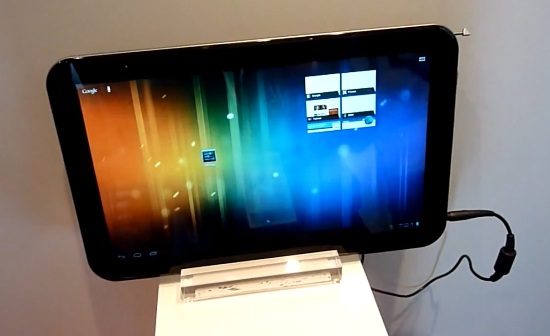 A new tablet by Toshiba has been spotted which has a big 13.3 inch display. Now some might call it too big, while others might find it perfect for widescreen experience.

The AT330 by Toshiba runs on Android 4.0 Ice Cream Sandwich with a huge 13.3 inch display. The processor is a Tegra 3, and the tablet has a 5MP rear and a 1.5MP front camera. The tablet also has an SD card slot, SIM card slot, a full HDMI port, a built-in TV tuner and a retractable antenna as well.


Some good specs on a large tablet, what do you think?