Toshiba has announced the launch of three new tablets to its Excite Range of tablets. All the three tablets go on to vary in sizes. The smallest of all, the Excite 7.7 has been seen before at the MWC 2012 so it is a no-surprise tablet. Next up is the Excite 10 which is a 10 inch tablet and seems to have a standard size when it comes to tablets.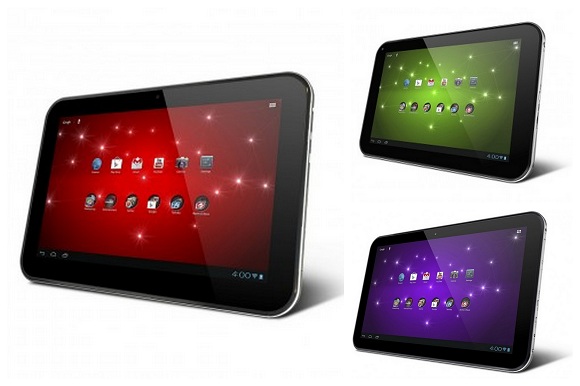 But the third launch is a stunner. Toshiba has launched the Excite 13.3, which is 13.3 inch in size. Yes it is a 13.3 inch tablet.

Going by the specs all the tablets run on Android Ice Cream Sandwich and are powered by the Tegra 3 quad-core processors supported by 1 GB RAM. There is a 5 MP camera at the rear and a 2 MP camera in the front for video calls. Oh and there is the Gorilla Glass on all the three tablets, which make them scratch-resistant.

The Excite 7.7 is the only tablet out of the three to arrive with an AMOLED display with a resolution of 1280 x 800. The Excite 7.7 is priced at $500 for the 16GB version and $580 for the 32GB.

Next up is the Excite 10 tablet which has a display resolution of 1280 x 800 and support for 10-finger multi-touch. It is just about 9mm thick. The battery is powerful and Toshiba says that it can last for 10 hours on usage and seven days on standby mode. The Excite is priced at about $450, $530, and $650 for the 16GB, 32GB, and 64GB models respectively.

Lastly the Excite 13.3, which is here to deliver Android ICS sweetness with a screen which measures 13.3 inches. Phew. That's like almost a laptop screen or a mini TV. It has a display of 16:9 aspect ratio and native resolution of 1600 × 900. There is a four-speaker sound system from Toshiba and SRS labs make your entertainment better. It is only 0.4 inch thick and has a battery which can run for 13 hours on a go. The Excite 13.3 is priced at $650 and $750 for the 32GB and 64GB version.

The Excite 7.7 and Excite 13 will go up for sale on June 10. The Excite 10 will be available a little earlier, on May 6 in the US.