Twitter for iPhone, iPad & Android App updated with new features
Twitter has announced that its official apps for the iPhone, iPad and Android devices have been updated, bringing new features and revamped UI.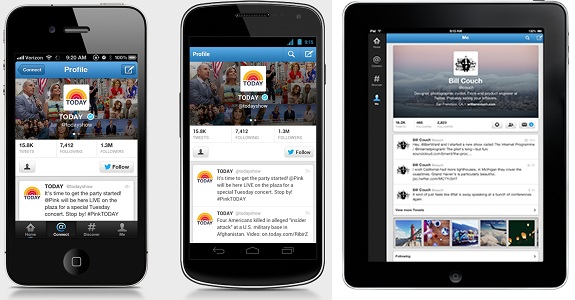 With the new apps Twitter has brought in new profiles which feature a header photo so that users are able to express more about themselves. This feature is just like the Cover Photo on Facebook.
Users can now upload an image from your mobile device and see the same beautiful profile design on your phone, tablet or computer.

Also Photo streams for profiles display the images people have shared on Twitter. Whenever you see a photo stream, swipe left or right through the thumbnails or tap to view photos in full screen mode. Android users will have an advantage and they can also use the pinch-to-zoom feature and watch the picture more closely.

Coming to the Twitter for iPad app, now users will be able to expand content which is embedded into a tweet, be it a picture, video or just a link. Now it is easier to keep track of conversations and interactions with other people. This also includes follows, mentions and retweets by others.

You can download the Twitter by iPhone, iPad and Android app by clicking here.