Last month, we told you about Night Mode showing up to some users of Twitter's Android app. That was a server side switch and not all the users were seeing the Night Mode option in their app. Well, if you were one of those who didn't see the option and were waiting for it, today's your lucky day as Twitter has finally started rolling out Night Mode feature for all the users of its Android app.
Twitter made the announcement of the roll out by tweeting "Now on Android! Turn on night mode to Tweet in the dark". The Night Mode was a feature which was long awaited for. The option to enable the Night Mode can be found under the navigation menu which can be accessed by tapping on your profile photo or swiping from the left. You will then see a Night Mode option with a toggle button provided against it. Just tap on the toggle button to enable Night Mode.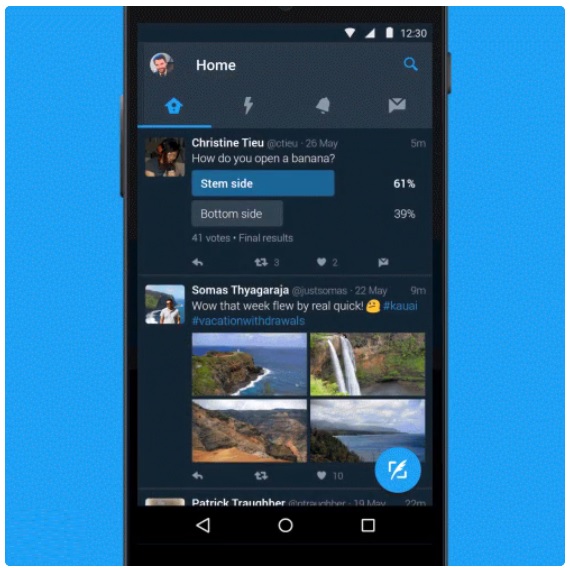 As soon as you enable Night Mode, the entire interface of your Twitter for Android app will become dark. Instead of white, the interface will become dark blue. Initially we thought that Twitter will make it black, but, dark blue isn't bad at all. The Night Mode is advantageous in two ways, first, it will make it easy for you to use the app during night time as dark UI won't cause much strain to your eyes. Second, if your phone has AMOLED display, the battery will be consumed less.
If you are not seeing the Night Mode option in your app, make sure it is updated to the latest version. Also, even after updating, you won't see the option immediately as it will take some time to be activated for you.
Download Link: Twitter for Android