Twitter has gained immense popularity as a micro-blogging site, and now, it has decided to bring a smile on the face of GIF lovers by rolling out the GIF search feature.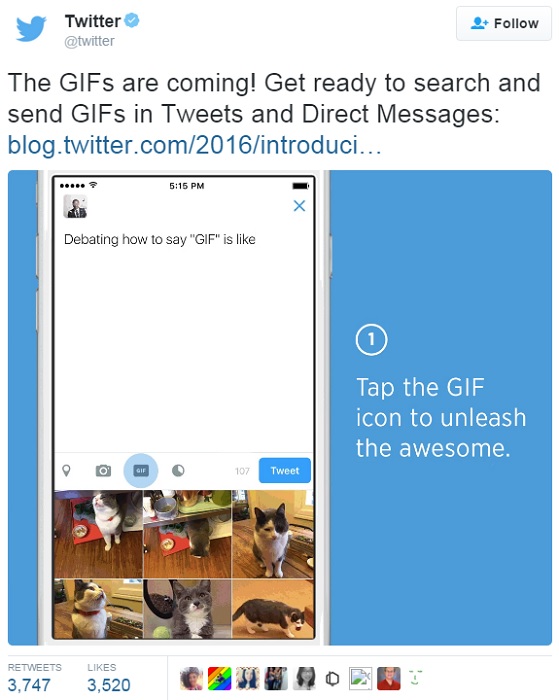 Twitter in a tweet said "The GIFs are coming! Get ready to search and send GIFs in Tweets and Direct Messages". Starting today, users will be able to search for GIFs and add them into their tweets. Not just the tweets, you can also search and add GIFs in DM (Direct Messages) as well. This feature will be rolled out on Android, iOS and twitter.com as well. The GIF search service is provided by GIPHY and Riffsy.
"GIPHY delivers real-time GIFs as they happen, helping to power Twitter's live commentary and conversation. GIPHY's users are creating GIFs for news, entertainment, sports, and expression that can enrich Tweets. We're excited to work with Twitter to make sharing these GIFs even easier." said Alex Chung, Founder and CEO of GIPHY.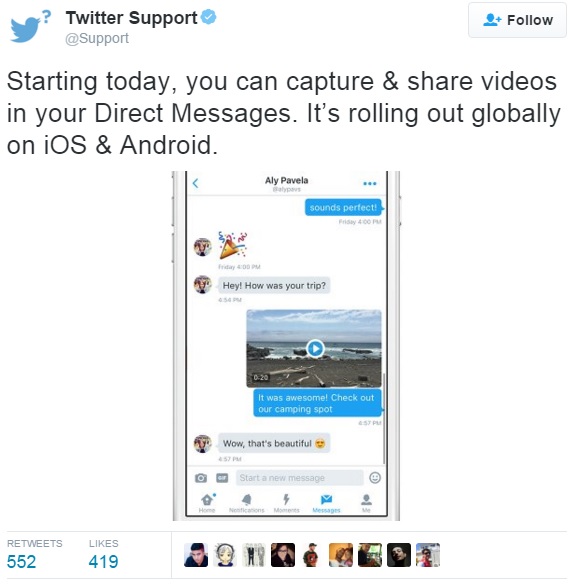 Twitter also tweeted "Starting today, you can capture & share videos in your Direct Messages. It's rolling out globally on iOS & Android." Until now, users were only able to send images in Direct Messages, but with the new update, users will now be able to capture and send videos in Direct Messages.
This feature will be rolled out slowly to everyone around the globe so it may take time to reach you. As of now, I haven't received the update. Have you? Also, how do you pronounce GIF? GIF or JIF? Tell us in the comments.