Back in July this year, social network Twitter updated its Android app with a bottom navigation bar that makes it easier for the users to navigate around the app without requiring any hand gymnastics. Well now, Twitter has started testing two new features which the company hopes will make Twitter more "conversational".
hey Twitter. we've been playing with some rough features to make it feel more conversational here. presence and reply threading. still early and iterating on these ideas. thoughts? pic.twitter.com/3U3NvpHWPy

— sara beykpour (@pandemona) August 31, 2018
Sara Haider – Head of Product at Twitter – announced that the company is testing two new features to make Twitter "feel more conversational". One of these features is "reply threading" which will show replies on Twitter in a threaded (nested, if you want to call that) manner, thus making it much more easier to read them – something similar to the comments on Facebook (and Instagram too).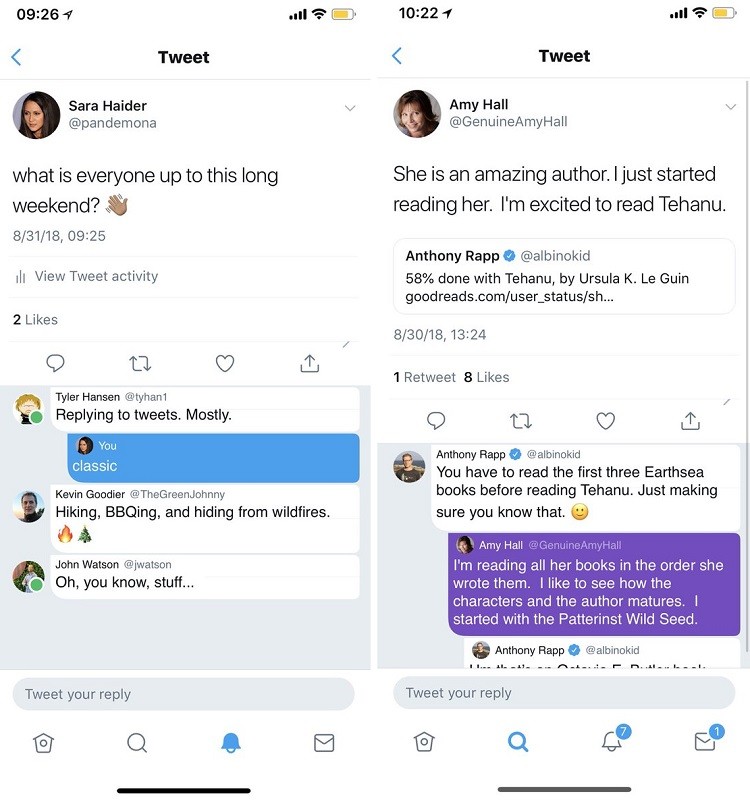 Another feature is called "presence" which is actually an online status indicator that will show when a Twitter user is online. The way this will work is that whenever a user is online on Twitter, a green-colored dot will appear on the bottom-right corner of his profile picture.
We like the idea of threaded replies, however, personally speaking, we are not interested in seeing who is online on Twitter and who isn't, so the status indicator makes less sense to us. But, we are pretty sure that there are many users on Twitter who would be interesting in knowing who's online and who isn't for reasons best known to them.
What about you? Would you like Twitter to roll-out these features? If you have any suggestions, you can chime in with your reply to Sara on Twitter.