We often hear about incidents where the riders complain of harassment by their cab drivers. This happens either during the ride or after it. After the ride because most of the times, personal information of the riders like phone numbers are shared with the drivers which leads to such incidents. Well, to deal with this and some other issues, cab aggregating service Uber has introduced a new feature called In-App Chat.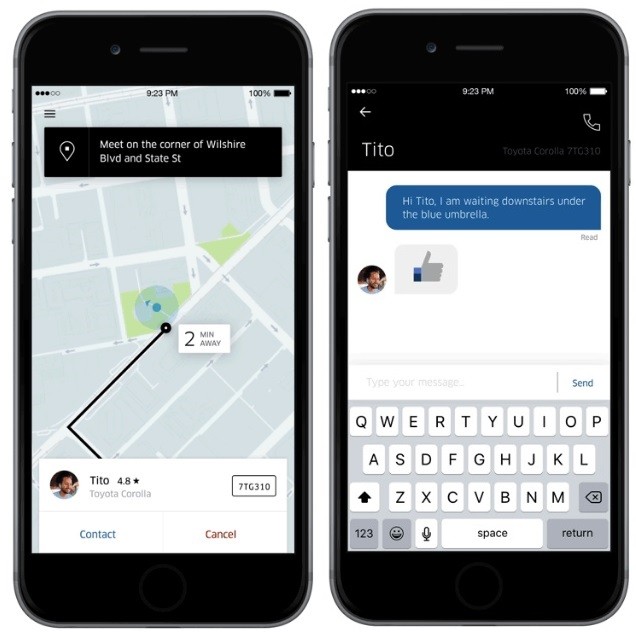 Yes, the feature is exactly what it sounds like. With the introduction of In-App Chat, Uber drivers and riders can now chat with each other from within the app. This would eliminate the need to contact one another using some other means of communication like sending an SMS which would reveal the phone number.
In order to chat with the driver, riders will have to go to the Uber feed and then tap on the "Contact" option. From there, they can chat with their driver. The riders will also be able to see whether the message was delivered to the driver and whether the driver read it.
On the driver's end, the message will be read out loud so that he doesn't get distracted and stays focused on driving. Moreover, the driver will be able to acknowledge the receipt of message with just one tap to the app by sending a "thumbs up" emoji.
This system also has an advantage over SMS which doesn't have any mechanism to verify whether the message was received and read by either parties. Also, like we said, this eliminates the need to share phone numbers with one another.
"Today riders and drivers can contact one another using apps outside of Uber. But these texts can lack context – is this random number my driver? How do I know if my SMS was received? So we're adding a way for riders and drivers to chat right in the Uber app. It's now easier than ever to get in touch." said Jeremy Lermitte, Product Manager, Uber.
This In-App Chat feature is rolling out to the drivers and riders across the globe over the coming weeks. You will have to use the latest version of the app though to be able to make use of this feature.
Download Link: Uber for Android | Uber for iOS