Even as food delivery startups are said to be struggling in the Indian market, popular cab-hailing company Uber has now launched the UberEATS food delivery service in India.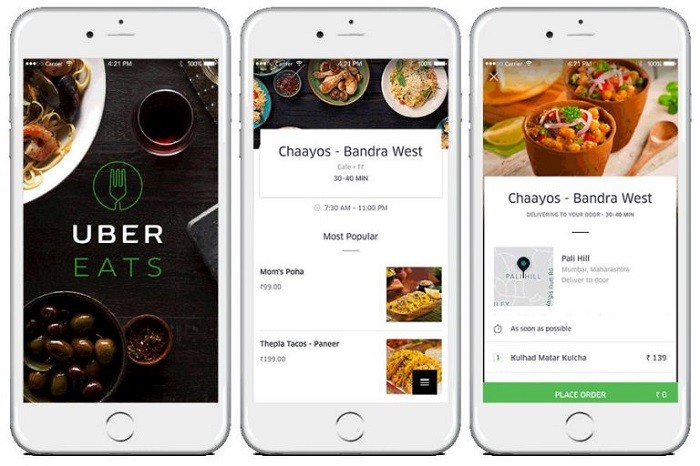 Uber has announced the launch of the UberEATS food delivery service in India. The service, which would be rolled out starting in Mumbai, offers online food delivery service. The service would be available 7 days a week, round the clock (as long as the restaurants are operational).
Uber has already partnered with over 200 restaurants like The Bombay Canteen, Nom Nom, The Good Wife, Fresh Menu, Le 15, Coffee by Di Bella and more to offer a wide selection of food options. Food prices are set by restaurant partners according to their own menu. However, there is a delivery fee of Rs. 15 (inclusive taxes) per order. Interestingly, there is no minimum order limit.
To order using the UberEATS service, users can visit the Android or iOS app or ubereats.com. Users need to enter the delivery location. Users would then get the partnered restaurants in the locality. Users then need to place the order. Users can pay using Paytm. The app can be used to get updates as the order is prepared and delivered to the destination.
While the UberEATS food delivery service in India is currently available only in Mumbai, the company plans to expand the service to six cities including Bangalore, Chennai, Delhi NCR, Hyderabad and Kolkata before the end of the year. As an introductory offer, users can use promocode EATNOW50 to get Rs. 50 off on the first 5 orders till 30th June in Mumbai.
Speaking about the launch, Bhavik Rathod, Head – UberEATS India, said, "Mumbai is home to a booming food industry with a vibrant food culture offering both global and local cuisines to its residents. The introduction of UberEATS in India, with Mumbai as the first city to go live with this food delivery service, is a major step in our global expansion strategy and showcases our commitment to the market. The app brings the perfect pairing of amazing restaurant partners, innovative technology, and the efficient Uber delivery network at a tap of a button to the people in India. We strongly believe that the wide selection of meal choices delivered at Uber speed will open new economic opportunities for delivery partners, enable restaurants to connect with more consumers and make eating effortless, everywhere and for everyone."