UC Browser, a mobile web browser on Android which is immensely popular in India, has disappeared from Google Play Store. UC Browser is developed by UC Web which is owned by China's Alibaba Group, and, it recently amassed 500 Million downloads on the Play Store.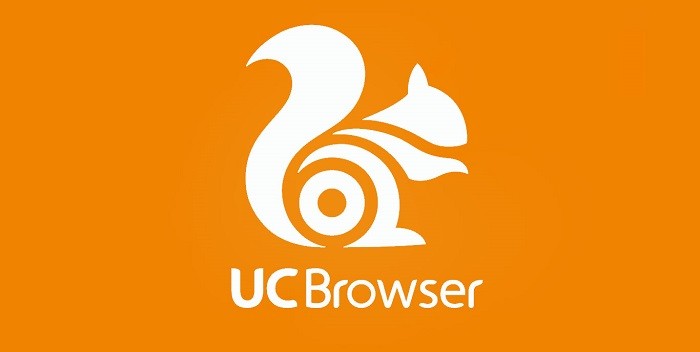 UC Browser is the second-most popular web browser in India after Google Chrome, having 100 Million users in the country out of the 420 Million users from around the world. There's no official word from either Google or UC Web yet regarding the delisting of UC Browser from Play Store, however, according to Twitter user Mike Ross who claims to work for UC Browser, this removal is temporary and is for a period of 30 days.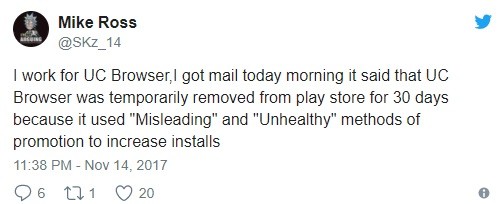 Ross also cites the reason for removing UC Browser from Play Store as usage of "Misleading" and "Unhealthy" methods of promotion to increase installs. Moreover, Artem Russakovskii – Founder of Android Police – received the following email on November 9 from UC Union which is UC Web's affiliate network that further adds fuel to Ross' claims.
"Dear Partner,

We hereby emphasis again that UC Union prohibits any and all misleading/malicious advertising method(s) to procure new users when promoting UC Browser campaigns, such as by using slogan inconsistent with the Product functions, or by using inductive slogan.

DO NOT use the Malicious Promotion method(s) or STOP such behavior immediately if you are acting so.

Upon discovery a Malicious Promotion, UC Union is entitled to

(i) STOP your payment settlement, or DEDUCT your corresponding payment made to you;

(ii) compensation in recovery of the loss suffered by UC Union, including but not limited to loss of UC Union's good will, loss of users of UC Union Product(s), removal of UC Union Product(s) from Google Play or Apple Store, and any other loss as a result of your Malicious Promotion;

(iii) require you to CLARIFY the facts for elimination of the negative impact shed upon UC Union; and

(iv) resort to any other legal measures if necessary.

UC Union is looking forward to cooperating and developing with you in a healthy UC Union ecosphere.

UC Union Team"
Well, having said that, Redditors, who first spotted the disappearance of UC Browser from Play Store are of the opinion that the app has been removed from the Play Store for stealing and leaking personally identifiable data to servers back in the company's home country – China.
Actually, this isn't the first time that UC Browser is accused of sending user information to China. Back in August, there were reports of Indian government considering a ban on UC Browser in the country for sending personal information to servers in China. Moreover, the report also stated that the data was being stolen from users' device even after the app was uninstalled.
We are still awaiting an official statement from Google and UC Browser to shed more light on this matter. In the meantime, you can download UC Browser Mini from the Play Store, or, can also download the apk of UC Browser directly from the company's website.
Also, if you already have UC Browser installed on your device, you need not worry much as it will continue to work as it normally does.
Update: UCWeb has provided an official statement to MobiGyaan in which the company says that UC Browser has been removed from the Play Store due to a certain setting of UC Browser not being in line with Google's policy. Moreover, the company has also stated that they don't have any records of Mike Ross working for them. Following is the full statement from UCWeb:
"The exact reason for UC Browser's unavailability on Google Play is because of a certain setting of UC Browser that was not in line with Google's policy. The reason for the removal has nothing to do with alleged data security breach or malicious promotion. We would like to state that we have no records of anyone named 'Mike Ross' claiming to be working for UC Browser, as mentioned in some reports. The person claiming to be working for UC Browser is in no way associated with the firm nor represent the views of the company. The allegations of misleading and malicious promotions by the said person are completely false and baseless. UC Browser new product package will be back on Google Play next week and, in the interim, users and partners can download the product from our website​."