UC Web, the team behind the popular UC Browser has now partnered with Facebook to bring its browser users real-time Facebook notifications. The feature has been activated on the UC Browser and there's no need for an add-on.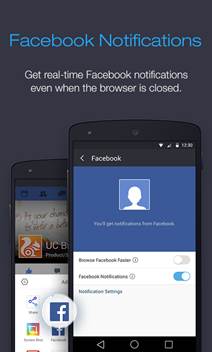 UC Browser users will just need to login to their Facebook account on the latest version of UC Browser via "Menu – Add-on – Facebook – Facebook Notification". Once logged in, users will start receiving real-time notifications, even if users don't have the native Facebook app. Users will also be able to choose which notifications they want to receive. The notifications will appear even when the UC Browser app is closed.
The latest feature from UC Browser is a boon for people who want one app to fulfil all their browsing needs.  It's interesting to note that this is not the first time UC Browser has tied up with Facebook, as the two companies had tied up last year in June for an add-on "Browse Facebook faster", which brought faster loading times of the Facebook page on the UC Browser.
The new feature comes at a time when UC Browser has reached two milestones. The browser has hit the landmark of 100 million active users and it has also become the third largest mobile browser in terms of page views.
You can get the Facebook real-time notifications feature by downloading the latest UC Browser version from ucweb.com. Try the new feature and tell us how you like it here and you might win a Yu Yureka smartphone or Flipkart vouchers.