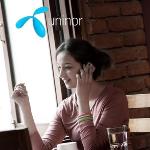 Uninor introduced two new plans for Karnataka circle. These plans are  '198 Non-Stop Local' and '63 Non-Stop Local Discount' plan.  
The 198 plan offers customers 1, 20, 000 seconds of free local Uninor to Uninor and 42,000 seconds of free Uninor to other network calls with a validity of 30 days,  with a free talktime worth Rs. 1620 in the per second billing plan for Rs.198 only.
Plan 63 plan allows discount from 5% to 60% discount on call charges at 1p/sec while the 198 plan offers the same tariff after free usage with a validity of 1 year. Both the plans allow subscribers to avail of 200 local and national SMS for a year, with the first SMS to be charged at Re. 1.