Uninor has launched the STV 35 in Bihar and Jharkhand that offers 6000 free local seconds for calls made to Uninor or any local network for a validity of 30 days.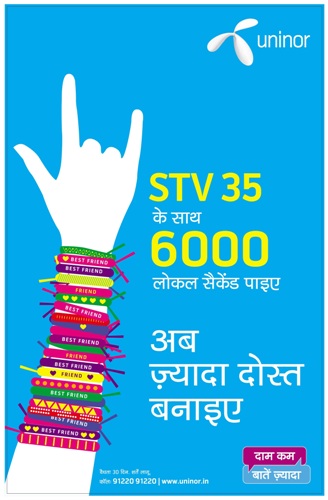 Not just that, the STV 35 gives the customer an inbuilt per second pulse and a usage tracker that informs the customer of the number of seconds used and the balance available. This feature helps the customers to keep track on their usage and stretch every rupee to the maximum.

The STV 35 also comes with a carry forward option, by which customers can carry forward their unused free seconds to the next STV 35 recharge done within the current validity period.
Customers can activate STV 35 by walking into any of the 110 fully functional Uninor branded stores or visit over 30,000 retail outlets spread across Bihar and Jharkhand. Customers can also dial *222*7*35# or log onto www.uninor.in to activate the pack.