Verizon hands out free Motorola Razr, Samsung Galaxy Nexus and Samsung Stratosphere to loyal customers
Customers in the southern United States have a reason to rejoice. Verizon Wireless is on a wild promotion spree and its lucky customers out there stand a chance to get a Motorola Razr, Galaxy Nexus or a Samsung Stratosphere totally free, the stipulation being they sign up for its 2-year contract.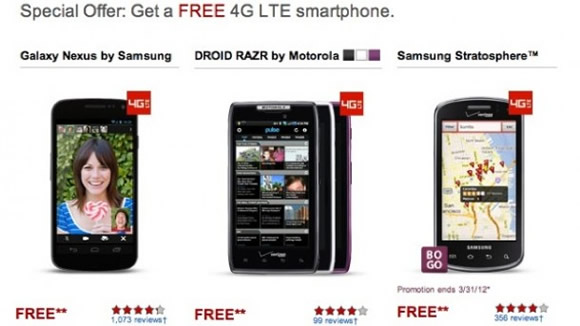 Surprised? Don't be. This is smart way to make money for careers like Verizon. See, the consumer is happy, as there is no urgent burden of money for acquiring the smartphone. Verizon, on the other makes money back via data fees over a period of two years. It seems like a win-win for both. Normally, the Razr or the Nexus is available at a price of $299.99 added to the cost of plan. Verizon's real strategy behind this effort is to get people to switch from feature phones to smartphones creating a new consumer base. Nice move, we have to say.
Coming back home, we have here in India, some cheap mobiles that are offered with such plans but no real good smartphone like ones offered by Verizon on such plans. Even the iPhone comes at a down payment added to the price of a two-year plan.