In the last decade, popularity of social networking has spread quite much and has become the new trend worldwide. If you are one among the 800 million facebook users who always want to be connected with their friends round the clock and share everything with them, then Vodafone has the mobile for you. The Vodafone 555 Blue.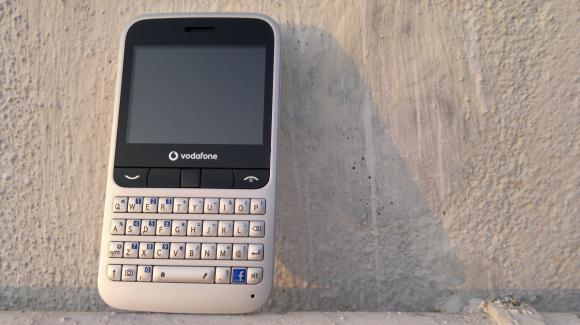 This is a Pay As You Go (PAYG) budget phone released by Vodafone for people who want to be connected with their friends all the time and do not insist on too many features or monthly data charges. With a thickness of just 12 mm this phone will fit perfectly in any teenager's pocket. It is built to be cheap, but is sturdy and light at only 84 gms. Though its features aren't many, it still offers all the basic needs of a phone in a neatly integrated package with a neat loudspeaker as well.

Quick thoughts and Specs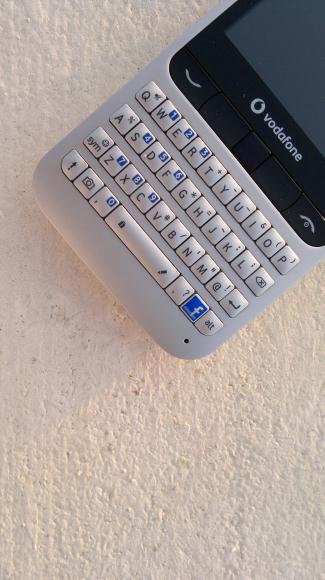 At first sight it is easy to notice that the 555 Blue just looks like the HTC ChaCha, one of the two facebook integrated phones that phones HTC has released. But do note that the Vodafone Blue isn't an Android phone, is manufactured by TCL and this entry level feature phone runs a proprietary operating system based on Java platform developed specially for it.
-2.4 inch TFT 256k display
-Full QWERTY Keyboard and Optical Trackpad
-Bluetooth 2.1 and Micro USB 2.0
-3.5mm headphone jack and FM Radio
-Supports multiple audio (AAC, AAC+, AAC+ Enhanced, MP3,WMA, MIDI) and video (MPEG4, H263) formats
-microSD slot, supporting upto 16GB.
There's the phone, a microUSB charger, a headset and a couple of quick start user manuals in the box. Note that there is no memory card out of the box and you'd need to purchase one seperately.
Hardware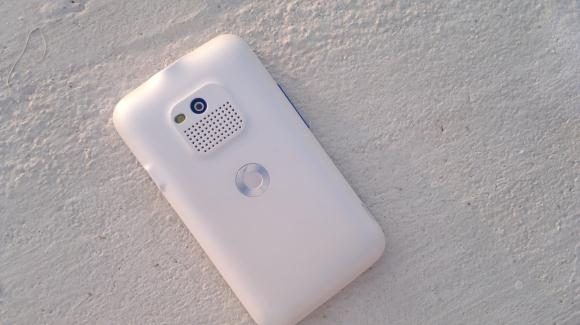 The body has a full QWERTY keypad and 5 soft buttons including the optical track pad which used for scrolling. The phone comes with a grey shade in the front and a white matt finish at the back which gives a polished bold look to it. Also, there's a blue colored volume rocker in the left and a micro usb port in the right with a 3.5mm Audio jack.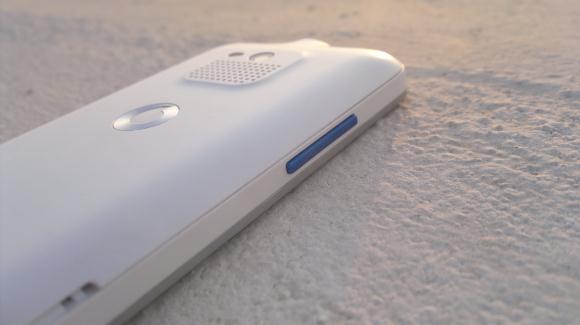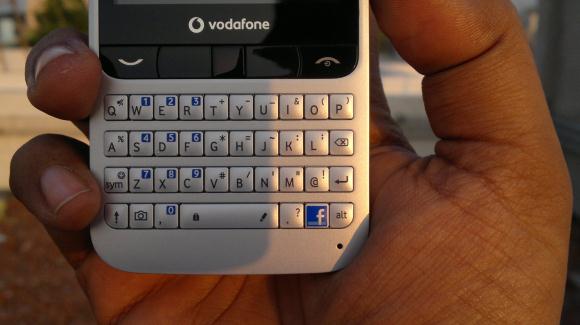 The QWERTY keypad has 4 rows of square keys with blue backlight and a dedicated 'Facebook' button on the right corner.
Also note that the Facebook button on the bottom right, is customizable in the Settings menu with a couple of options provided by Vodafone which by default takes you to your news feed, much needed and quick.
The buttons, in our opinion, are not spaced out enough and feels quite rugged while typing. Typing continuously resulted in the fingers aching and the keyboard design isn't ergonomic, at all. The T9 dictionary feature really helps the cause here, to quite an extent
Using it continuously can become irritating at times too, for the center, right and the left soft keys don't line up properly with the screen which can sometimes be quite confusing because it results in the lack of an intuitive User experience. Indeed takes some time to get used to.
Powered only by a MTK6235 processor chip clocked at 200MHz, you can expect the phone to be slightly sluggish especially while you're deep into facebook browsing and have scrolled way down your news feed or viewing videos or photos with the cache memory going up.
The optical trackpad is quite responsive but becomes slightly inaccurate while going through photos, sometimes skipping a couple in the middle. Neverthless, excellent trackpad on the device for the money it's being offered for, as there are competitors in the same or higher price brackets whose Optical Trackpads have very poor response and gesture detection.
The phone has only around 40 mb of internal storage but has a microSD slot which can support up to 16GB of memory. Considering that this one runs on a Java based operating system, one can download and install Jave based apps which support a screen resolution of 320×240 on it. But sadly, as we'd pointed out, it only offers 40 mb of internal memory and there's no option to install on the memory card as well.
For a budget device, the camera handles some very good shot in daylight conditions and considering that there's only a 2 MP camera, it's really impressive. It is further supported by a single led flash which comes in really handy under low light. Photos can be shared via Bluetooth and the File Manager utility helps you sort them out or copy from/to the memory card. Here are a couple of sample shots: Link 1. Link 2.
You can also use the camera on the device as a Webcam, very simple to setup. As soon as you plug the device via USB, a prompt asks you if you'd want to pick the Webcam mode. We went ahead and tried a Skype call, not much impressive but it's a great addition to a budget device.
The sound quality of the phone is quite decent and the native music player supports MP3, WMA, MIDI, AAC, AAC+ and AAC+Enhanced. The video player supports MPEG4 and H.263 formats. The Music Player has a nice UI and allows sorting of Albums, Artists and the general stuff. Also, the Vodafone Blue comes with FM Radio with RDS support. We tried listening to radio with the pair of headsets that came in the box and Stereo FM Radio worked impressively, picking up the frequency the best, better than our Home Stereo which has an FM tuner as well.
In the connectivity section the 555 Blue supports 2.5 G and EDGE in dual band. This is a huge disappointment especially for a phone which is meant to be connected to the internet 24×7. Addition of WiFi could have been quite a feature, considering that all other cellphones in this price range nowadays come with WiFi. So you can forget about high speed down downloads or a good experience on YouTube. Absence of GPS isn't to be complained about, considering it's a budget phone and all that.
The 555 Blue packs a 1000 mAh battery which promises about 3 hrs of talk time. Standby time was about 14 hours, with casual usage of music and a couple of calls here and then. It takes around 5-6 hours to get completely charged and there's a small notification light which keeps glowing in blue to indicate that it's charging. Though small, it's quite a useful feature considering that you don't have to turn the screen on everytime to check.
The battery performance however can be increased if you can cut back a little on heavy messaging or facebook browsing. You can also set the facebook update to manual so that it decreases internet usage and thereby increasing battery life.
User Interface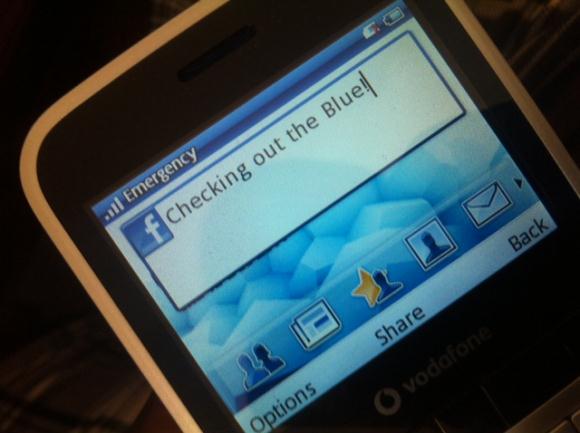 The interface and the user experience is quite unique on this phone, especially as it has a whole new operating system built for it. On staring up the phone you will be greeted with a screen asking you to log in to your facebook account. If not done at first, you will be able to add your facebook credentials later using the soft keys.
The single home screen on this phone has a big F icon next to a textbox which displays – 'what's on your mind' which enables you to instantly share your thoughts and updates on facebook. It's right there everytime you take your phone out, quite a tempting box right there to keep sharing what you're upto with your friends. Photos from facebook are right there, allowing you to add comments and you also get notifications when your friends involve in activities you've taken part in. The facebook integration in the phone has been done really well, throughout and contributes to an excellent facebook experience.
At the bottom of the home screen you will find a scrollable panel which contains a few important icons like contacts, messaging, news feed, etc for quick access. This panel can be edited to your liking, very similar to other phones in this segment based on the Java platform, but there's News Feed, Me and other shortcuts which directly take you to that particular section of Facebook. Also, there's a bunch of small utilities and applications. Notably, there's a World Clock, a Weather app and a Stopwatch, Converter etc.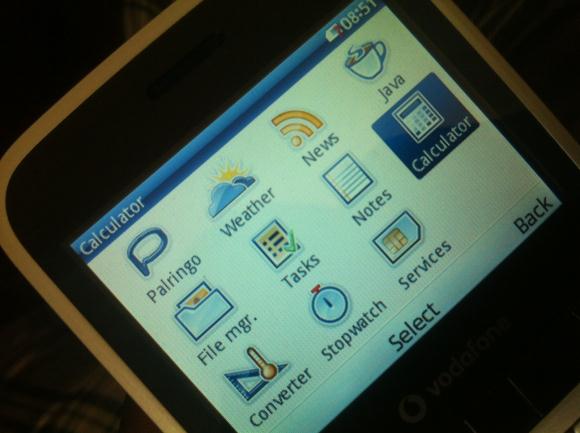 There's T9 prediction all around the device, right from the status update bar on the homescreen, to text input inside any application. Works neat and pulls out options through which you can scroll through and pick one, also allows you to add custom words and the usual stuff. On a QWERTY device, prediction isn't a needed feature considering there's the whole keyboard layout on it, but on the Vodafone Blue, it's a must considering the way the keyboard is built. Awkward positioning of the keys, as we'd already mentioned in the hardware section.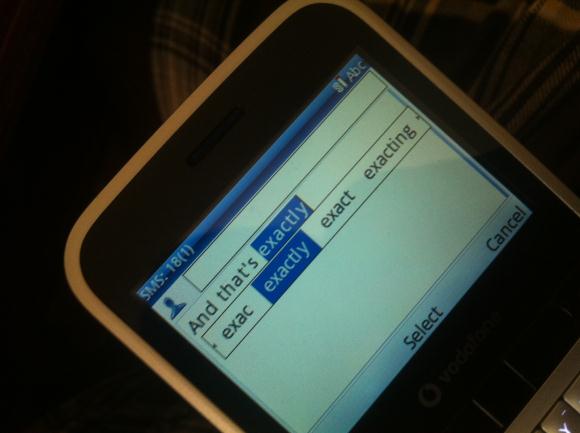 Entering the application menu, you can instantly notice it looks like a big facebook app with icons which have been edited to look just like the ones in facebook. Vodafone has taken facebook integration to the next level in this phone. This is noticeable especially in the contacts which allows you to pair your facebook contacts with the ones in your sim card. This is extremely useful when you are searching for contacts and the sync is really neat and detects the name while merging contacts with their facebook profile and their number which you've already got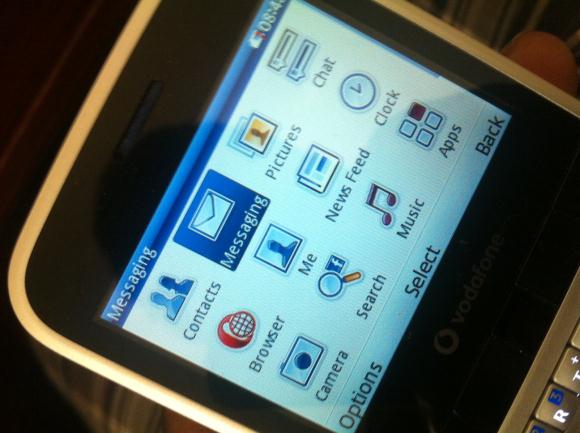 The messaging app is divided into 3 parts- sim messages, facebook inboxes and emails which is much cleaner and easier to use with all your communications in one place. The facebook experience itself is quite good and you will be able to do all that you can do on your computer browser. But while scrolling through friends photos we found it a bit slow.
Final thoughts and Conclusion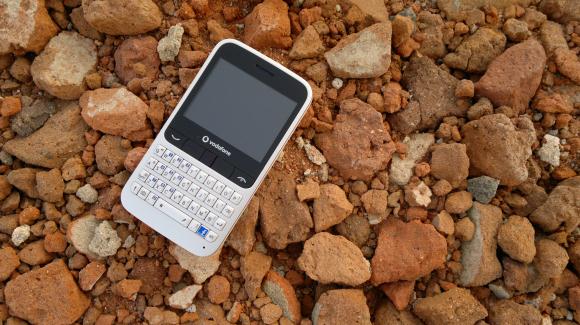 This device has been specifically meant to target people of 16-25 of age who just simply cannot be away from facebook. More than that, there's not much but the loudspeaker and camera make the device an absolute worth for the 5 thousand rupees it costs and facebook integration is indeed impressive.
Pros:
Facebook integrated really well, one touch Facebook access
Decent Camera and Loudspeaker, Camera can be used as Webcam
Extendable memory, microUSB charging and Bluetooth
Nifty build quality, 3.5mm audio port

Mediocre keyboard arrangement
UI slightly sluggish at times

The only competitor to this phone would be the Nokia C3, which has WiFi but if that's not much to mind and you use facebook a lot, the Vodafone 555 Blue priced at Rs4950 is the best handsets available at its price range which enables you to do that and much more with a solid build quality.