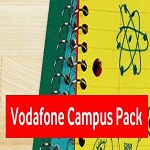 After Airtel,its Vodafone's turn to set the cars rolling as they re-launch their famous Vodafone Campus Pack in Maharashtra & Goa.This scheme of Vodafone is a ditto copy of Airtel Friendz plan.Both Vodafone and Airtel had stopped providing the original Friendz/Campus Pack scheme a year and a half back after launching Friendz-2/Campus Pack-2 schemes which gave the benefit of calling within Vodafone Campus Pack at 20 paise/min.But according to the new scheme a user will be charged just 10 paise/min for calls made to Vodafone Campus Pack(old and new)subscribers.Other local and STD calls will be charged at 50 paise/min.
Following are the Tarrif details:-
Sim Cost- Rs.51
Sim Validity- Lifetime
Tariff Validity- 1 year
Vodafone Campus Pack calls- 10 paise/min
Vodafone to Other mobile calls(Including Vodafone per second and lifetime subscribers)- 50 paise/min
STD calls- 50 paise/min
SMS Tariff:-
Daily 200 local and national sms free after first sms charged at Rs.1
NO DAILY RENTAL APPLICABLE ON THIS SCHEME!!!
Everyday the first call and first sms will be charged at Rs.1 and after that the Campus Pack calling and sms benefit will start.
Vodafone,after sensing a huge On-net call war started by Tata Docomo has launched this scheme to stay upfront in market.A good move by Vodafone regardless of the fact that Airtel has also come up with a same scheme so the target subscribers(Youth!) will be divided.