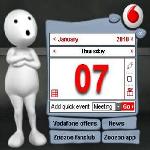 Vodafone has announced a special Gifts for Zoozoo fans across India. Vodafone customers can now get free mobile application/widgets "Zoozoo organize"
With this free to download widgets user getting a grip on calendar, Set important reminders, maintaining your contact-list or keeping a task-list, stay updated on our latest offerings with the Zoozoo widget. Still can´t get enough? Poke & tickle for some Zoozoo fun.
This is another step by Vodafone to fulfil the love and affection that hundreds of thousands of fans have showered on Zoozoos – the lovable fictional characters from Vodafone's recent advertising campaign. Compelled by demand by fans, Vodafone had also launched official Zoozoo merchandise recently, in a tie-up with Shoppers Stop, one of the leading large format retail store chain in India.
Vodafone's Zoozoos has been one of the most talked about creative ad campaigns capturing the imagination of India. Vodafone recently won the CNBC Awaaz Consumer Award for 'Storyboard Campaign of the Year' for the Zoozoo campaign. The Zoozoo Ad Campaign ran a series of commercials on the various services being offered by Vodafone during the IPL Season 2.
Social networking sites have also witnessed the success and popularity of the Zoozoos, with Facebook having more than 3 lakh Zoozoo fans, which makes it one of the largest fan clubs.
To Download the Zoozoo Organize Mobile Application click here-> Zoozoo organize Widget Or visit Vodafone's website.