Vodafone recently brought about a new program dubbed 'Vodafone Tuesdays', which can sure make Tuesdays interesting for Vodafone users and now the program has come to Vodafone Mumbai users. The Vodafone Tuesdays program brings "Buy 1 Get 1 free" offers on Food, Shopping & Lifestyle and Entertainment.
If you are a Vodafone Mumbai user, you can avail this cool offer by simply sending an SMS – TUESDAY to 56789 from your Vodafone mobile number which will generate a coupon code. The code can then be redeemed at an Vodafone partner outlets for cool "Buy 1 Get 1 free" offers.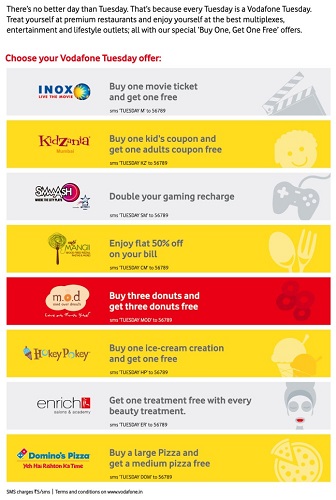 Arvind Vohra, Business Head, Mumbai- Vodafone India commented on the program saying,"Customer Delight is the basis of everything we do at Vodafone. From our innovative product offerings to our customer service, we always aim to give our customers something more to make them feel special. 'Vodafone Tuesdays' is one of our pioneer privilege programmes under our 'Vodafone Delights' umbrella and  has multiple elements woven around customer connect. I am very happy to announce that we are now making Vodafone Tuesdays bigger and better. As with everything else we do, we have made 'Vodafone Tuesdays' one more platform to enhance customer delight.  "
Today is Tuesday, so if you're a Vodafone user in Mumbai, we suggest you to go ahead and take a look at the offers. There are some really great offers you are surely going to love so take the plunge and make your Tuesdays a little delightful.