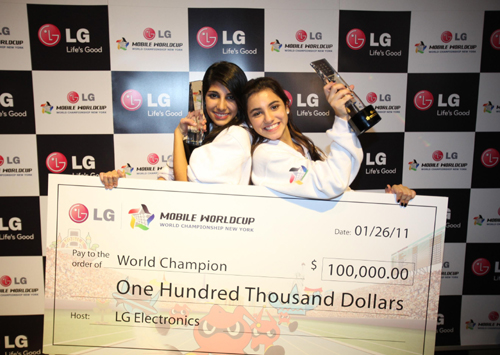 "Texting", an activity that almost each one of us love doing but imagine the atmosphere when this fun and quick process turns into a fierce and challenging competition.
Emerging as winners of this competition were two young ladies named Cristina Sales Ancines, age 20, and Jennifer Sales Ancines, age 15, from Panama  who can now proudly call themselves "World's Fastest Texters".
The stage was all set at the second Annual LG Mobile World Cup World Championship, 2010-2011 held at the historic Gotham Hall in New York City. The competition witnessed participants from 16 different countries all over the world put through tough texting challenges with the winners taking away a whooping USD 100,000 as prize money.
The competitors were allowed to use the two official phones, the new LG Chocolate BL20 and LG Town GT350. In each round the contestants who were the fastest to type in phrases without any mistakes or abbreviations, exactly as they appeared on the LG plasma screen made the cut.
Apart from the main competition, the participants also competed for an opportunity to set a Guinness World Record for fastest texting on a QWERTY mobile device. Securing 1st position was Cheong Kit Au from Australia who typed out a 264 character text in exactly one minute and 17 seconds beating Pedro Maltias (Previous record holder) by 43 seconds.
With improved participation this year one can expect the same next year as well.
Other winners include:
2nd prize : Korea winning USD 20,000
3rd Prize : Brazil winning USD 10,000