WhatsApp beta for Android now fully supports Nougat's notification system
If you are someone who is having a smartphone running Android 7.0 or 7.1 Nougat, you must have noticed that WhatsApp has ignored Google's guidelines of implementing Android Nougat's notification system. Well, WhatsApp has now implemented it properly, at least in its Beta version.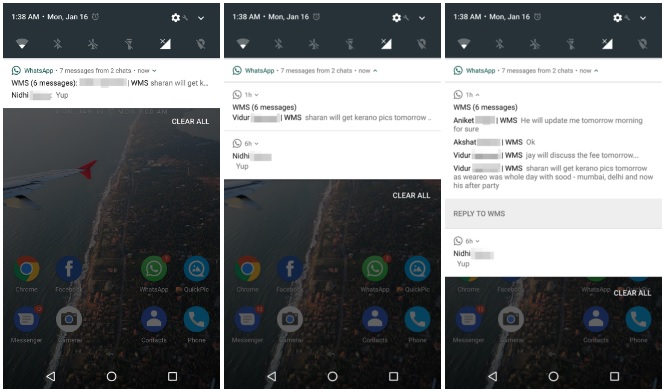 WhatsApp is now fully supporting Android Nougat's notification system. This has been implemented in the beta version 2.17.13 of the app. Initially, if you had multiple messages from a sender (be it personal chat or group chat), WhatsApp would only show you the latest message instead of showing all the messages. Also, if you tried replying to the messages straight from the notification, the typed message would just disappear as soon as you received a new message from the person/group you were replying to.
Now that WhatsApp has implemented Nougat's notification system properly, you will be able to see all the messages from a person/group instead of being able to see only the latest one. Needless to say, the typed messages also don't disappear when you receive a new message.
While these changes are only implemented in the Beta version, it may take some time for the company to roll them out on the stable version. In the meantime, if you can't wait, you can either download the apk file from here (at your own risk) or enroll yourself in the Beta program.