WhatsApp has been in the news for quite some time now, and not for a good reason. Rolling out a new status feature which is a copy of Snapchat Stories got WhasApp a lot of bad press. While the old text based status feature is now out of beta and is rolling out to Android users of the app, the company has now added support for Gboard GIFs to the beta version of the app.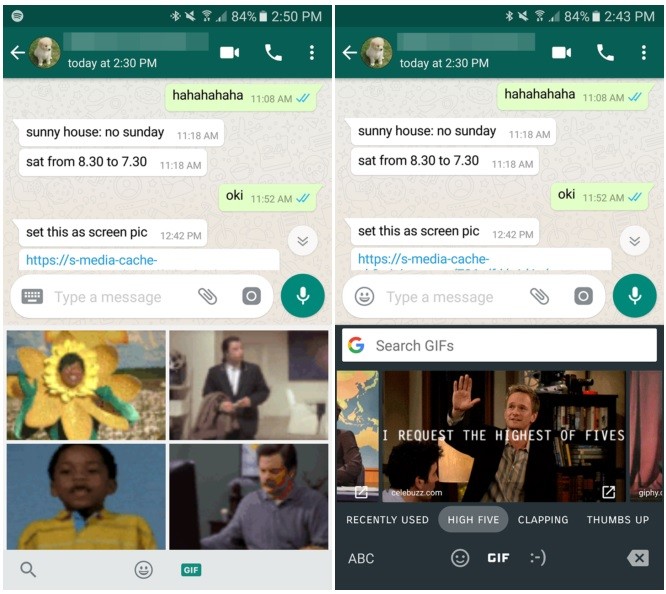 WhatsApp beta version 2.17.110 for Android has now got support for Gboard GIFs. What this means is that you can now send GIFs in WhatsApp chats straight from the Gboard. This wasn't possible earlier. Even though Gboard lets you send GIFs to a chat, WhatsApp didn't support it. Whenever you tapped on the GIF option next to the emoji icon in Gboard, you must have got a message saying "This text field does not support GIF insertion from the keyboard".
Well, not anymore. Instead of relying on third-party apps to send GIFs in WhatsApp, you can search and send GIFs straight from the Gboard which comes pre-installed on all the Android smartphones. You can either send GIFs from different categories presented to you, or, you can search for some specific GIFs using the search bar located above the GIFs.
Like we said, this is only possible with WhatsApp beta version 2.17.110 for Android currently, and, it will be quite some time till WhatsApp rolls out the support on the stable channel. If you can't wait to send GIFs on WhatsApp from Gboard, you can download the apk file of WhatsApp beta version from here, or, you can also enroll in the beta program.
Also Read: How To Enable 2-Step Verification On WhatsApp [Guide]