After having been acquired by Facebook, we have seen quite a useful features making their way on to WhatsApp. Last year, WhatsApp introduced end-to-end encryption which ensured that the communication between the sender and receiver stayed secure. This meant no one other than the sender and receiver could read the information, be it a simple message, audio note, voice call, photos or videos. Well today, WhatsApp has introduced a new feature which brings another layer of security. It's the 2-step verification.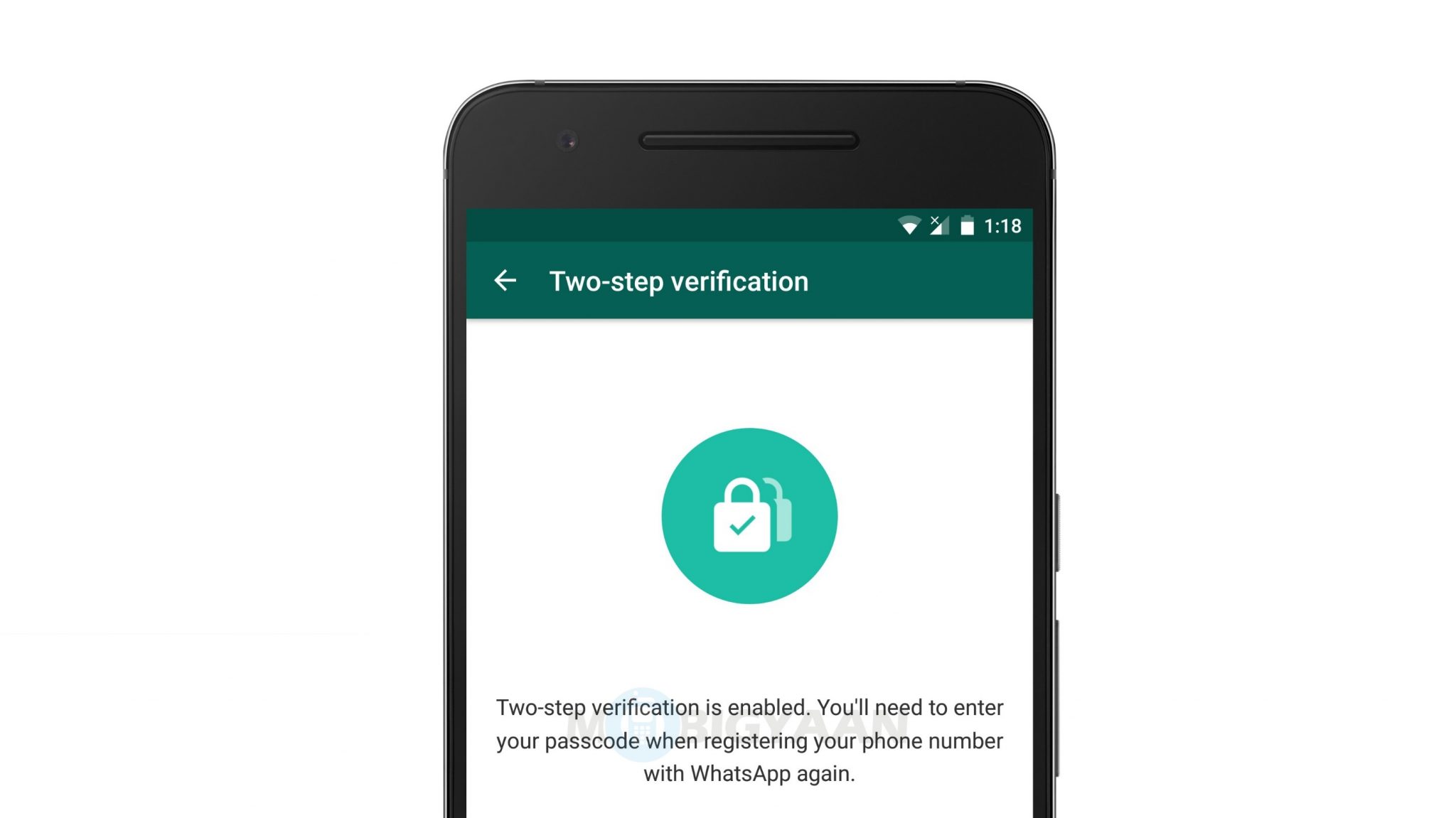 WhatsApp has today officially added the 2-step verification feature to its app for all its users across Android, iOS and Windows Phone. Once 2-step verification is enabled, you will be required to enter the six-digit passcode every time you want to verify your number. This is important because if someone else is trying to verify your number from afar, he/she will not succeed as verifying your number will also require the six-digit code, which only you would be aware of. If you don't know how to enable 2-step verification on WhatsApp, by the end of this article, you will. Read on.
How to enable 2-step Verification on WhatsApp
Step 1: Open WhatsApp, go to Settings > Account and then select Two-step verification.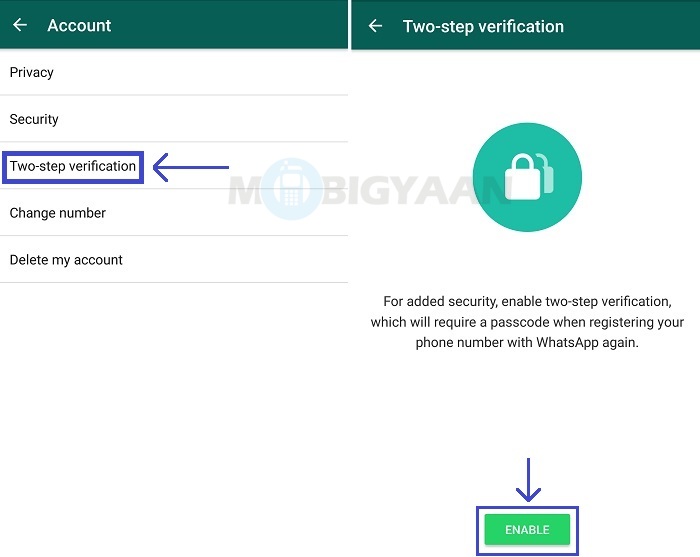 After tapping on Two-step verification, you will see a screen having a green button with Enable written on it. Tap on that 'Enable' button.
Step 2: Now enter a six-digit passcode. Make sure it's not something as easy as 1-2-3-4-5-6.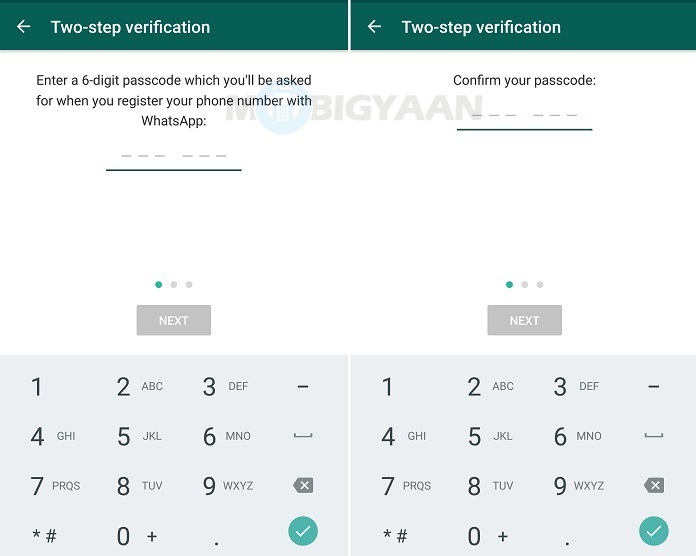 Enter the six-digit passcode and then confirm it by re-entering again. Also make sure that you don't reveal it to someone else, because of course, doing so means loosing the very purpose of 2-step verification. Isn't it?
Step 3: After you have entered the six-digit passcode, you will be asked to add an email address to your account. This will be used to reset your passcode just in case you forget it. Well, humans do forget things. Don't they? We suggest you do add an email address so that you won't be locked out of your account.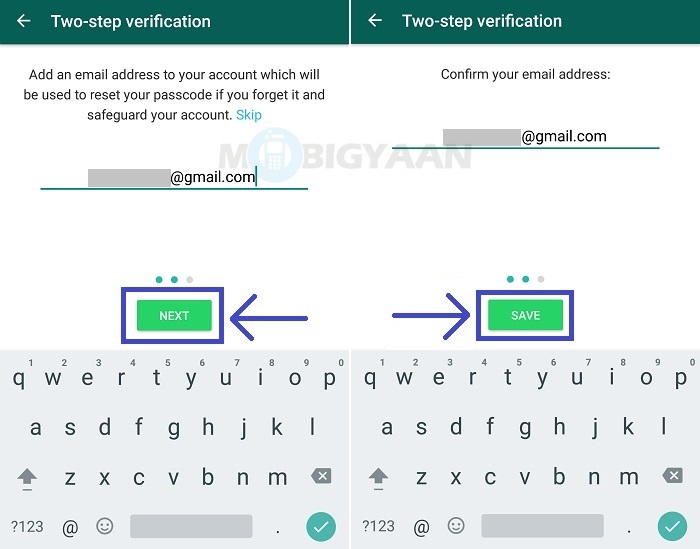 If you don't want to add the email address, you can tap on 'Skip'. However, if you want to add the email address, do make sure that you have entered it correctly because WhatsApp doesn't take any additional measures to verify the accuracy of your email address. After you are done adding the email address, tap on 'Save'.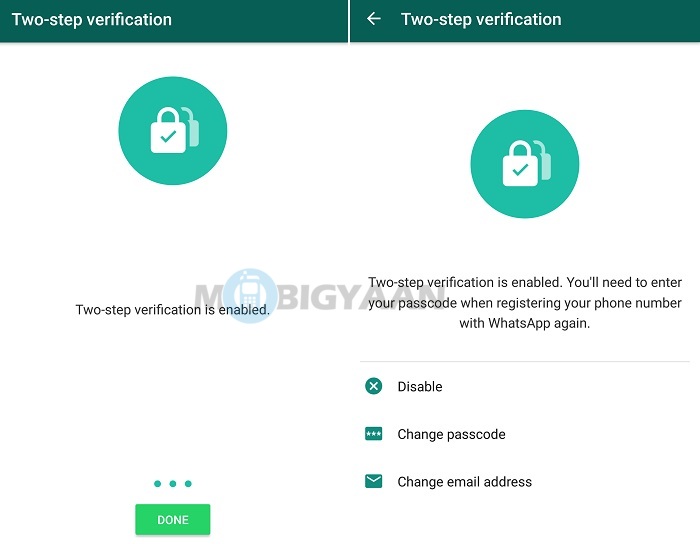 Well that's it. 2-step verification is now enabled. Now whenever you verify your phone number, you will be asked to enter your six-digit passcode. You can always disable 2-step verification, change passcode or email address by going to Settings > Account > Two-step verification.
Also, do note that WhatsApp will regularly ask you to enter the passcode. If you get annoyed by this, the only way to get rid of it would be to disable 2-step verification entirely. More importantly, if you ever receive an email from WhatsApp for disabling 2-step verification, but you did not request it, we suggest you don't click on that link as someone else could be trying to verify your number.
For more such guides, you can head on to our How-To Guides section.
Also Read: How to enable 2-Step Verification on Telegram [Guide]