With security becoming a major concern for users, WhatsApp may soon offer an end-to-end encryption solution for its service.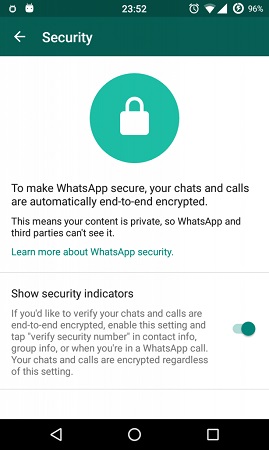 According to sources, WhatsApp is apparently working on an end-to-end encryption solution for the popular instant messaging service. The feature was spotted by a user with access to a beta version of the Android app in test phase with root access. The app with version 2.12.413 offers an additional security screen, which can be used to toggle the security indicators on and off.
The beta version of the WhatsApp messenger with end-to-end encryption solution allows users to choose security indicators for chats and calls in order to verify that whatever information they communicate is protected. We are expecting the feature to rollout of beta soon and would be available to all users after that.