WhatsApp bug makes it 'obsolete' for many users in India, here's how to fix it [Updated]
Facebook owned WhatsApp has been in the news for all the wrong reasons lately. The service faced global outage on New Year's Eve, and recently, it was in the headlines due to a security flaw that could allow hackers to get access to group chats without permission. Now, WhatsApp is again receiving flak as the app has become 'obsolete' and has stopped working for many users in India.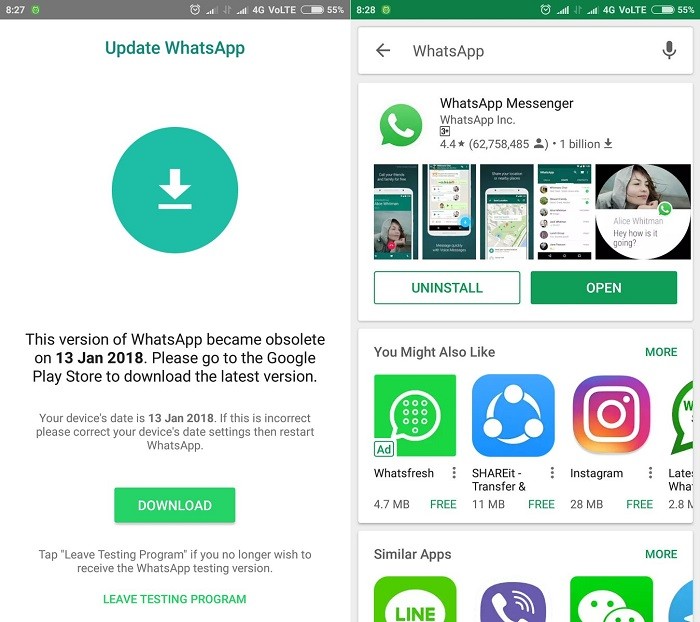 Several users in India have reported that WhatsApp has stopped working for them. Users are seeing a message that says "WhatsApp became obsolete on 13 Jan 2018. Please go to the Google Play Store to download the latest version".
Well, when the users who are facing this issue go to the Play Store, they aren't seeing the 'Update' button and are only presented with two options – Uninstall and Open. That's not it, the error message is also followed by another message that says "Tap "Leave Testing Program" if you no longer wish to receive the WhatsApp testing version.".
Users are seeing the "Leave Testing Program" message even when they are not enrolled in WhatsApp's beta program. WhatsApp users are facing this issue for quite some time now, however, the number of users facing this issue increased since last weekend.
Having said that, majority of the users who are facing this issue own a Xiaomi smartphone. We too faced this exact same issue on our Xiaomi Redmi 4A, however, we were able to get rid off it by re-installing the app.
When asked to comment on this issue, WhatsApp in a statement said "On background, this is an issue that's being fixed. It was a problem with how our app is distributed, which is not under our control".
How to fix WhatsApp 'obsolete' error message issue
Well, there's no word from WhatsApp or Xiaomi yet on how to fix this issue. However, you can still get rid off it.
Method 1:
This method can be a bit difficult for you if you are unaware of side-loading apps on Android smartphone. To fix the WhatsApp 'obsolete' error message issue with this method, you will first have to head over to the Settings menu of your smartphone and temporarily allow installation of apps from 'Unknown Sources'. After that, head over to www.whatsapp.com/android and download the app's apk file. Once the file is downloaded, open it and tap Install.
Method 2:
Well, if the first method doesn't work out for you, then another way to get rid of this issue is to simply un-install WhatsApp and then install it from the Google Play Store. Before re-installing, do make sure that you have backed up all your chats. However, we wonder if you would be able to backup your WhatsApp chats, because in our experience, we couldn't get past the error screen to backup our chats.
If you too are facing this issue, then try either of the methods we have mentioned above to fix it and let us know if it worked.
Updated on January 18, 2018: Xiaomi has taken responsibility for this issue and in a statement has said that this issue was caused because of a beta version of WhatsApp that was pushed on their Mi App Store.
Here's what Xiaomi said, "A few Xiaomi users reported an issue with WhatsApp on their smartphones. After a thorough investigation, we learned that a beta version of WhatsApp was pushed out on our Mi App Store a few days ago, which some users updated to. We have updated our App store listing with a newer version, approved by WhatsApp, which we encourage any users facing issues, to update to. We apologise for any inconvenience faced by our Mi Fans, and promise to be more vigilant going forward".