Last week, several people in India were unable to use WhatsApp as the app kept flashing message that read "WhatsApp became obsolete". Amongst those, majority of the users were ones who owned a Xiaomi smartphone. While WhatsApp in a statement did say that it was a problem with how their app was distributed and something that wasn't under their control, there was no word from Xiaomi on this matter. However, Xiaomi has finally chimed in on this issue and has revealed the reason for this 'obsolete' error.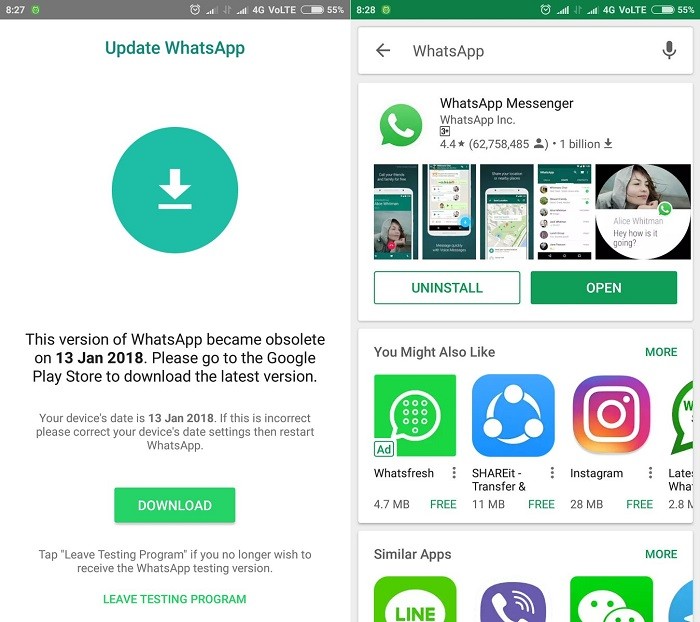 Xiaomi in a statement has said that this issue was caused due to a beta version of WhatsApp that was pushed on their Mi App Store which is what some users updated to. The message that popped up last week on WhatsApp about the app becoming obsolete also gave users an option to "Leave Testing Program" even when they weren't enrolled in any WhatsApp testing (beta) program.
Furthermore, when the users tried updating the app from the Play Store, the only options that were available to them were Uninstall and Open. The option to update WhatsApp wasn't available on the Play Store.
"A few Xiaomi users reported an issue with WhatsApp on their smartphones. After a thorough investigation, we learned that a beta version of WhatsApp was pushed out on our Mi App Store a few days ago, which some users updated to. We have updated our App store listing with a newer version, approved by WhatsApp, which we encourage any users facing issues, to update to. We apologise for any inconvenience faced by our Mi Fans, and promise to be more vigilant going forward" said Xiaomi.
Also Read: WhatsApp becomes 'obsolete' for many users in India, here's how to fix it
Well, if you are a Xiaomi user who is still facing this issue, we advise you to update your WhatsApp from the Mi App Store, or, you can also download the apk file of WhatsApp from www.whatsapp.com/android and then install it. If that doesn't work, you can try re-installing WhatsApp on your smartphone.
We too faced this issue last week on our Xiaomi Redmi 4A, and re-installing the app did solve the problem for us. Did you also face this WhatsApp 'obsolete' issue on your smartphone?