Xiaomi has launched its new trade-in program called Mi Exchange to make its handsets even more budget-friendly. Xiaomi has been expanding its network by offline channels after opening a number of Mi Home stores in India. The Mi Exchange program is available at all Mi Home stores across the country.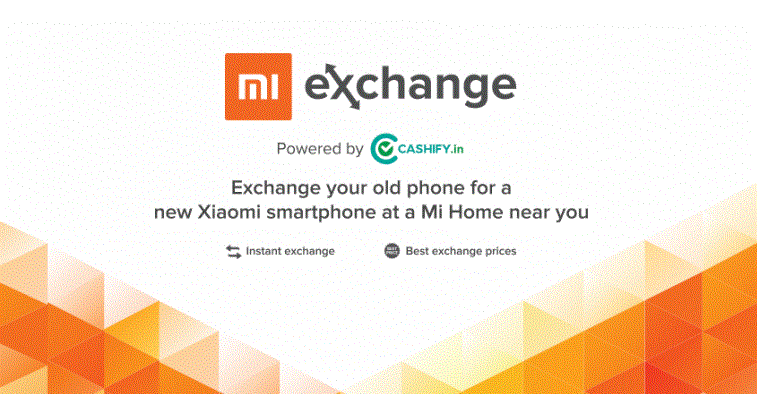 Speaking about the trade-in program, the company has announced the Mi Exchange program in a partnership with Cashify which lets users exchange old smartphones for the new ones. So, whenever a new smartphone from Xiaomi arrives, you have the option to exchange your old Redmi or Mi smartphones which further reduces the price for the new Xiaomi smartphone.
To check how much price your phone can get, you can visit the Cashify website, enter your phone model and follow the procedure. When you exchange a Xiaomi phone, a Cahsify team will inspect the old smartphone and quote a price depending on the condition of the phone. The amount can be redeemed as a discount voucher while purchasing a Xiaomi smartphone.
Customers can also avail the smartphone delivered at the doorstep and get the differential amount. However, in this case, the entire amount has to be paid upfront. An employee from Cashify will come and inspect the old smartphone, handing over its value as cashback.
This is not the first time in the country, there are other trade-in programs also run by Samsung and OnePlus. Flipkart also runs similar programs.
Mi Exchange Program terms and conditions
This is a phone exchange program which is run by Cashify at all Mi homes.
The customer can only exchange any one device (in Cashify Portfolio) with an available Xiaomi phone at Mi home.
The resale value of the phone based on Cashify inbuilt application. The evaluation of the phone is purely based on the old phone condition.
There is no negotiation on the proposed exchange price by the store staff.
The customer gets an e-receipt through Cashify for his old phone.
The customer can also get a pickup service of the old phone if required that shall be supported by Cashify. In this case, he pays the complete amount for the new phone at the store during the time of purchase and schedules a pickup call. Cashify shall be sending an executive to collect the device as per the decided time and pays the customer. In this process, all issues are addressed by Cashify. Xiaomi has no involvement in the process.
Once the exchange is made, the customer would not be entertained to do any further changes.