Given the widespread popularity of the Redmi series which is well known for its affordable pricing with decent hardware, Xiaomi seems to be taking the handset ahead with a more powerful processor the next time.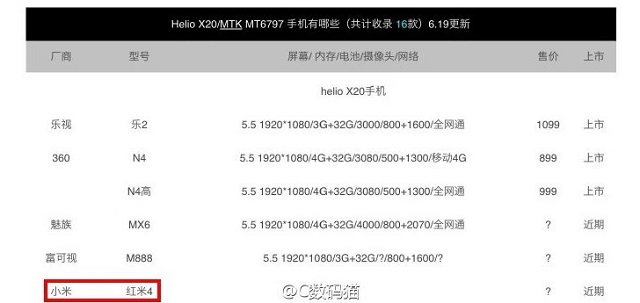 According to sources, a document mentioning the upcoming devices to use MediaTek's Helio X20 processor had the Redmi 4 listed. While the Redmi 4 is still probably months away, it is obvious that Xiaomi has already started with the planning for the device. However, the document doesn't provide any other details about the handset.
While the MediaTek Helio X20 chipset which employs a deca core processor certainly seems high for the affordable Redmi line-up, given the reasonably high-end hardware like the Snapdragon 650 processor used in the recent editions, this just might be possible.
However, this might be a slight problem for the Indian market considering the ban on Xiaomi selling MediaTek powered phones in the country. However, either the ban could be revoked by then or else we would get a different variant of the Redmi 4. But a Redmi 4 smartphone running on the powerful MediaTek Helio X20 processor definitely sounds exciting.