We have been expecting the Xiaomi Mi 5s for quite some time, now we have access to some relevant details about the upcoming flagship.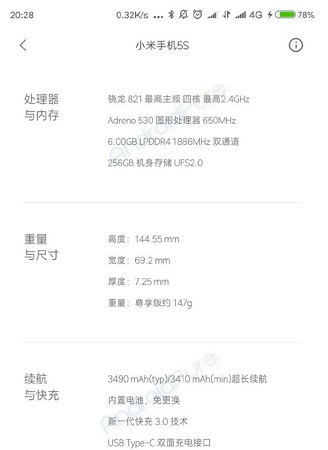 According to a leaked screenshot of the specs of the alleged Xiaomi Mi 5s, the upcoming smartphone flaunts a 5.15 inch display with Force Touch support. The handset is said to be powered by the quad core Qualcomm Snapdragon 821 processor paired with copious 6 GB of RAM and 256 GB of storage on-board. However, this seems to be the premium version and we expect a base variant with 3 GB of RAM and 64 GB of storage.
The Xiaomi Mi 5s is said to have a 16 MP primary camera with PDAF, 4 axis optical image stabilization and f/1.8 aperture. Also expected is the new USB Type-C port and Qualcomm's ultrasonic fingerprint scanner. Sources suggest that Xiaomi would announce the smartphone before the end of 2016.