Xiaomi Mi3: 5 amazing features
Xiaomi has finally launched its first smartphone in India. The Xiaomi Mi3 offers some amazing features at an affordable price tag of Rs. 14,999. It has a 5-inch 1080p display, a 2.3-GHz Qualcomm Snapdragon 800 processor, 2 GB RAM and a 13-megapixel rear cam. It offers features that are only there in high-end smartphones and has a pretty affordable price tag for it. The phone will be available for sale from July 14.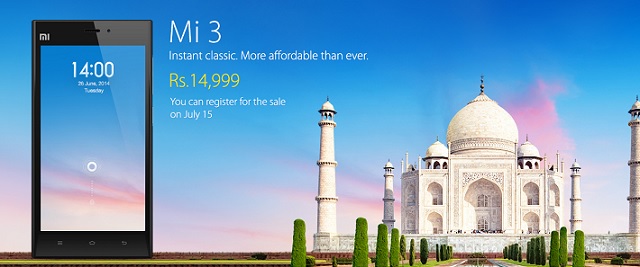 Xiaomi has done something only one other company has done – it has set the the low-end smartphone category on its head. The other company being Motorola, which did it with Moto E. At this rate, there is no company currently in the market which can compete with Gionee on equal footing, whether it be Micromax, Samsung or HTC.
Xiaomi has already delivered in a great way in China by breaking all records, when it comes to smartphone sales and we will finally be delighted by what it offers.
The Xiaomi Mi3 is definitely a stand alone smartphone in the Indian smartphone industry. It offers a lot. But, here are some features that we have fallen head over heels in love with.
5-inch 1080p display
I have to admit, the Xiaomi Mi3 isn't the only full HD phone out there, but it is definitely the most affordable one. It has a 441ppi display density – another proven formula for 5-inch displays from my experience.
Not only that, the closest phone is the Gionee Elife S5.5 which gives a little value for money with its 5-inch full HD display but that is priced Rs. 7,000 above this phone. To offer a full HD smartphone at this price was unimaginable up till now and Xiaomi has set a landmark that few other companies will be able to match up to.
Amazing processor
Having a Snapdragon 800 processor is not unique. In fact, the international model carries a Snapdragon 801, reportedly. It might be that Xiaomi has kept it to lower the cost and compete in the Indian market. Well, by any bounds of imagination, it has outdone any other similarly priced handset. The Xiaomi Mi3 comes with a 2.3-GHz Snapdragon 800 processor and an Adreno 330 GPU. You can now safely wish away those Snapdragon 400 and cheap MediaTek processors and go for a Snapdragon 800, which suits your pocket and has already proved its mettle with various phones out there.
Massive Battery
The Xiaomi Mi3 comes with a massive 3050 mAh battery. The battery is non-removable, but I can say confidently that its battery has the mettle to support a Snapdragon 800 processor. Once again, the company breaks perceptions. Most phones, if you can check them out offer at most a 2000 mAh battery at this price tag.
Great rear camera and front cam
The Xiaomi Mi 3 comes with a 13-megapixel rear cam and 2-megapixel front cam. Both are capable of shooting 1080p displays. I am actually more surprised by the front cam than the rear one. Now, one mostly uses the front cam to have a video chat and that clarity will do you a world of good. The rear cam is also accompanied by a dual-LED flash, which is also pretty great.
Out-of-the-world price tag!
I have been saving the best for the last, haven't I?  Yes, the price tag is something to go gaga over. This is a first for India. From importing foreign brands at double the rates not too long ago, this is the market in which every brand wants to and needs to prove itself. In fact, the Chinese brands that we maligned as good for nothing phones made for people who couldn't afford something else.
The Xiaomi Mi3 has actually rattled the market just the way Motorola did some time ago. It will now  bee imperative for other brands to offer something comparable to this or perish. This makes it an exciting time to live in, if you love smartphones.
Although, I wouldn't go as far as to say that this phone is perfect. I don't agree with the MiUi skin, and would have been over the moon had they opted for stock Android. It also runs on an older Android version, Jelly Bean instead of KitKat. But more or less, the idea behind it is refreshing and looks like the company is here to stay. It is actually the splash Xiaomi needed to make to have not just successful but amazing debut in India.