Xiaomi Mi4 might be unveiled on July 22
Xiaomi might be gearing up for the release of its next flagship, aptly dubbed the Xiaomi Mi4. Xiaomi's president and co-founder, Lin Bin posted a picture on Chinese social network Weibo, which suggests the next flagship from the Chinese company might be coming on July 22nd.
The picture posted by Bin shows us the number 4 with a metal background and a caption saying, "The journey of a piece of steel metal". So, we can expect the Mi4 flagship to feature a metal design.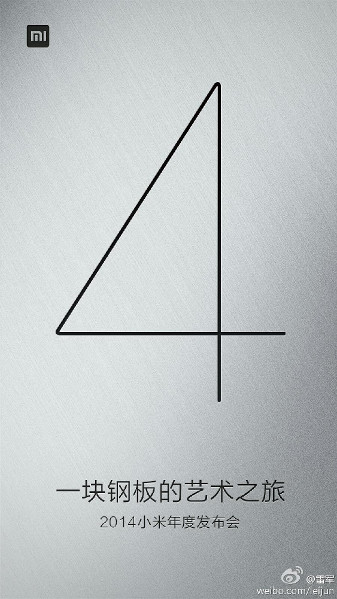 Previous rumors around the Mi4 have suggested a metal unibody, so we can expect a metal design on the device. The device is also expected to come with 4G LTE connectivity, considering the company previously revealed that they plan on launching 4G phones this year. Rumored specs include 5.2-inch 1080p display, Tegra K1 or Snapdragon 805 processor, 3 GB RAM and a 13 MP primary camera unit.
We should know everything around the Xiaomi Mi4 soon and as always, we'll keep you informed. Xiaomi recently started its Indian journey with Xiamo Mi3 and it has managed to garner a lot of positive attention. Hopefully the Mi4 will also make its way to India soon and that too at an attractive price.