A new teaser on Xiaomi Store's Weibo account is mentioning a new smartphone coming on July 11. Interestingly LG is also expected to reveal the LG Q6 the same day.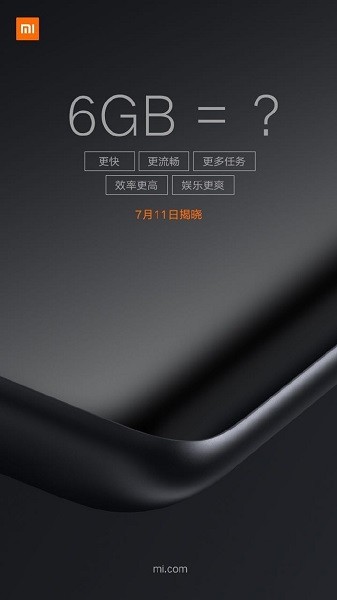 The teaser doesn't actually reveal the name of the phone. Instead, it says the device will have 6 GB of RAM. This leads us to believe the mystery device might be the Mi 6 Plus. As both the Mi Note 2 and the Mi Mix were released in November last year, their successors aren't coming right now.
That leaves us with the only premium device that Xiaomi goes all out for. That is the Mi 6 Plus. Drawing conclusions from last year, the Mi 6 Plus will be a Mi 6 on steroids. The image we talked about is only half of the story.
The Chinese startup also posted a video hinting at more specs of the upcoming handset. As the video suggests, the phone will have a Snapdragon 800 class chip, DDR4 RAM and a big 4,000 mAh battery. It will also showcase a bigger screen, a 3D glass body and UFS storage. The camera department is also set to be impressive. Previous rumours have suggested a 22 MP sensor for the rear with 4K video recording enabled.
Among recent developments, Xiaomi is also in the advanced stages of developing the MIUI 9. The OEM has promised to deliver the new Android Nougat based skin till August 16. Who knows? we might just be in for a surprise.